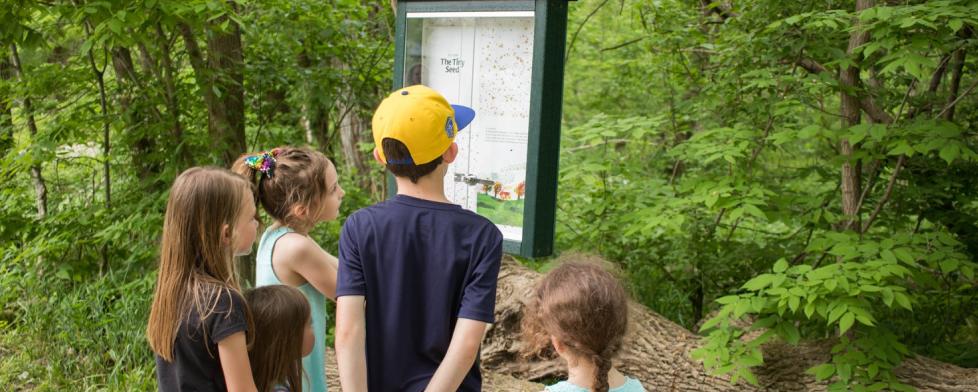 My family loves reading and nature, so when I heard about the new Story Walk at Arbuckle Acres Park in Brownsburg, Indiana, I knew it was the perfect activity for us to try.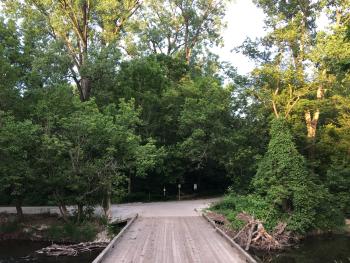 We recently went to the Story Walk on a cool, but sunny evening. I knew the Story Walk was in the lower level of Arbuckle Acres, but we had a hard time finding it at first. Thankfully, a friendly jogger was able to tell me where to find it.
So here's my best insider tip: The Story Walk is just over the first bridge as you head into Arbuckle Acres and it goes around a small, wooded, circular path. 
The Story Walk, which was created by the Brownsburg Public Library and Brownsburg Parks, includes posts situated a few dozen feet apart on the path and each post features a page or two of a storybook. As visitors walk the path, a story unfolds. 
Funding for the Story Walk was provided through a grant made possible by the Duke Energy Foundation and Friends of Brownsburg Library. The posts were placed last summer by employees of IU Health West during their annual Day of Service. 
The first stop was just past the bridge and featured the title page of The Tiny Seed by Eric Carle, one of my favorite children's authors. My daughter enjoyed looking at the pages and noticed all the beautiful colors in Carle's illustrations.
As we walked between stops, we also enjoyed looking at the creek, the trees and plants, and we even came across a deer on the trail! 
While you're at Abuckle Acres, which is located at 200 N. Green St., be sure to check out some of the park's other amenities, including lighted basketball and tennis courts, a baseball complex, a large play structure, White Lick Creek, wooded areas, 1.3 miles of 8-foot wide paved trails and seven shelters. The 38-acre park is the oldest park in Brownsburg, and it's definitely worth a visit.