Bru Burger Bar on Mass Ave in Indy has been on my personal list of best Indianapolis restaurants for quite some time now. So when I heard that Plainfield was getting a Bru Burger Bar location at The Shops at Perry Crossing, I quickly volunteered to write a review for Visit Hendricks County.
The Plainfield location is the Cunningham Restaurant Group's sixth Bru Burger Bar overall, and the third to open in the Indianapolis area. With a seating capacity of 245 inside and 35 on the patio, it is more than twice the size of the original Mass Ave location.
I spoke with General Manager Jacob Cotter recently, and he said since Bru Burger opened in Plainfield on March 13, it has been the busiest of all the Cunningham Restaurants. Those restaurants include other local Hendricks County restaurants Stone Creek Dining Company, Boulder Creek Dining Company and Charbonos, which are all also personal favorites of mine. From what I've experienced, all of Cunningham Restaurant Group's restaurants have delicious food and excellent service, and I never hesitate to go to one of their establishments.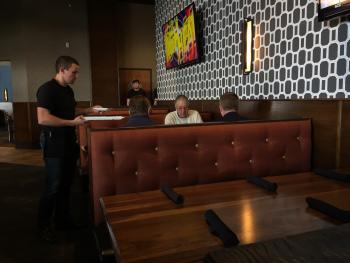 I got to try Bru Burger Bar Plainfield recently, and it definitely lived up to my expectations for a restaurant belonging to this company.
One thing I loved about my experience is that I could tell I was getting the Cunningham treatment right when we walked in the door Saturday night. As I predicted for a new restaurant on a weekend night, the wait was long, but the hostess simply asked for my cell phone number, told me to feel free to walk around The Shops at Perry Crossing at my leisure, and said they would text me as soon as my table opened up in about an hour or less.
Having just experienced some terrible waiting conditions while traveling the previous weekend, this was a breath of fresh air. My husband and I walked with our daughter down to Barnes & Noble and browsed the children's section until we received a text asking us to head back to the restaurant. Once we were seated, we were greeted by a friendly waiter, who despite having at least a few large groups to serve, still gave us the attention we needed throughout the rest of the evening.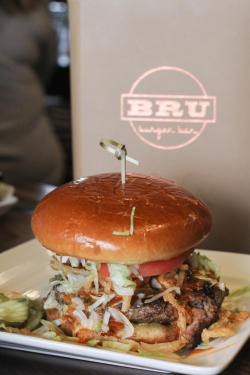 Another thing I appreciate about Bru Burger Bar is that it offers food made from fresh ingredients. Bru Burger Bar Plainfield sources its beef from a farm in Illinois, and it is a special blend of chuck, sirloin and brisket. The restaurant tries to source other ingredients locally, and never serves frozen food, Cotter said. 
Bru Burger Bar has an extensive menu, with 13 "Chef Burgers" and an additional 11 "Classic Burgers and Sandwiches." Not a beef person? The menu also includes tuna, turkey, veggie, pulled pork, mahi mahi, and even a vegan quinoa burger. There are also a variety of appetizers (the onion rings looked heavenly, but I resisted this time), fresh salads, desserts, and a large selection of beer, wine and cocktails.
It took me a while Saturday night to decide which burger to try, but I finally decided to try the Mexicali Burger, which is a burger with white queso, pickled jalepenos, guacamole, fried onions, house chipotle bbq sauce, lettuce and tomato. I opted to have the buttermilk cobb salad as my side, but I asked my husband to share a few of his french fries with me.
He ordered the Honey Chipotle BBQ Burger, which is a burger with bacon, carmelized onions, white cheddar, onion ring, bbq pulled pork and black pepper mayo. Both burgers were unique, flavorful and just all around good. We had no complaints about our salad or french fries either. 
For our daughter, we ordered the mac & cheese and fruit salad from the kids menu, which also offers a variety of selections such as breaded chicken bites, cheeseburger/hamburger, popcorn shrimp or grilled cheese for $6. 
After reading the descriptions of all of the burgers on the menu, I know I'm going to have to return several times in the future to try more. In fact, I just might become a regular at Bru Burger Bar Plainfield.
Bru Burger Bar Plainfield
Location: 2499 Perry Crossing Way, Suite 170 Plainfield, IN 46168
Hours: 11 a.m.-10 p.m. Monday-Thursday; 11 a.m.-11 p.m. Friday-Saturday; 11 a.m.-9 p.m. Sunday