If you are on Facebook, you know the power of pet pictures. They make us laugh, they make us cry and they sometimes even put life back into the proper perspective.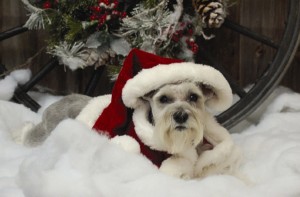 There are some pets that are just naturals – or hams (no, I don't mean real bovines, although…never mind, we won't go there…). However much we love them, most of the pictures we try to take end up, well, looking not so much adorable as blurry, off center, full of nose or tail or worse. Dawna Clearwater, who says it's all about the dogs, doesn't seem to have that problem at all. She is a professional groomer and animal photographer from Stilesville, and she will be at
Frazee Gardens
in Brownsburg on Dec. 8 from 10 a.m. to 5 p.m. as part of the
Rural Routes to Main Street Cultural Trail's Holiday Open House
to turn your precious pet into the puuurrrrfect image for your holiday cards or computer screen saver. This is the third year for the Pet Portraits by Dawna event and the 15-minute appointments fill up fast. So call Frazee Gardens at (317) 858-8440 soon. The cost is $18 and you get the session, a 5x7 portrait on the spot and rights to the photo so you can immediately use it for holiday cards this season. While you're there, you can also get more information on other fun workshops and demonstrations at Frazee and along the rest of the Cultural Trail by picking up a
Holiday Open House brochure
.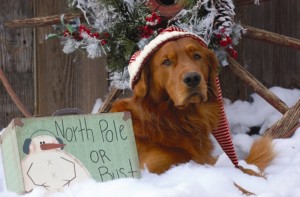 Dawna brings props and sets the stage so all you need to bring is your pet – cleaned up and ready to smile for the camera. Dottie at Frazee Gardens was telling me that some pet owners dress up Rover or Tabby in an outfit or costume for the photo session. She also tells me that the photos that come out of the sessions are incredible – as is the way Dawna works with the animals. In fact, it's common that not much gets done at the shop on picture days because the staff is watching Dawna and the animals. The holidays are supposed to be fun and memorable. This year, have some fun with Dawna at Frazee Gardens, get your pet portrait and keep the memory alive for a long time to come!
Event information:
Pet Portraits by DawnaDec. 8 at Frazee Gardens, 3480 N. Ind. 267, Brownsburg10 a.m. – 5 p.m. by appointmentCall (317) 858-8440 to register