Today is
Cinco de Mayo
, a holiday filled with plenty of pride for the Mexican and the Mexican-American community. Here's a fun history fact for you:
Cinco de Mayo
celebrates the victory of the Mexican militia over the French army at The Battle of Puebla in 1862.
For many people it's also a good reason to celebrate with food and drink. I usually celebrate Cinco de Mayo because I enjoy eating Mexican food, and it's a fun way to celebrate with friends and family. I'm always looking for new Mexican restaurants to visit in Hendricks County, so we asked Visit Hendricks County Facebook fans: "What is your favorite Mexican restaurant in
Hendricks County
?"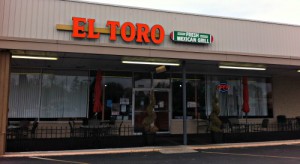 As usual, our
Facebook fans came through big time with plenty of responses
. I decided to go with Tracy Forner's (co-host of TV's
Indy Style
) recommendation: El Toro (also recommended by other Facebook fans). El Toro is located on Main Street in a shopping center with popular shops: Bone Appetit, Finer Things, Wyliepalooza in Brownsburg. There's plenty of outdoor seating, but it was too cold so my friends and I voted to dine inside.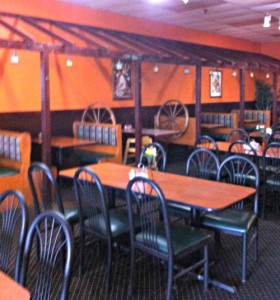 Inside El Toro, you'll find a roomy restaurant with a variety of seating areas, which can easily accommodate families and large groups. We opted for a booth and settled in. Almost immediately upon sitting, our server brought us glasses of water and warm, crispy chips and small carafes of salsa. The salsa tasted fresh and homemade, and my friends and I made a dent in the chips and salsa in no time!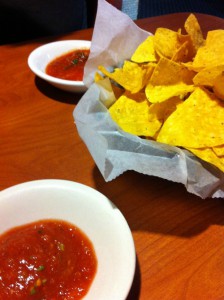 El Toro has a full bar with daily bar specials, and I was in the mood for a margarita. Doesn't a margarita and chips and salsa go perfectly together? It's such a great combo of sweet, tart and salty. I ordered the 27-ounce margarita on the rocks so we could all sample it. There was plenty of margarita to share. They also have a 64-ounce option, in a fish bowl glass, if you're up to tackling it. El Toro has a sizable menu with plenty of options so it took me a little while to decide. We opted for the ground beef enchiladas, served with refried beans and rice and an order of steak tacos with beans and rice.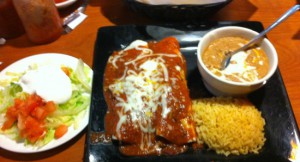 We preferred the enchiladas, which were filled with tasty, well-seasoned and slightly peppery, ground beef. I appreciated the spice with the meal. We had a fun time at El Toro where you'll find reasonably-priced drinks and food and pleasing service.  
El Toro
1008 E. Main St.Brownsburg, Indiana(317) 858-9994Call for hours and more information.  Thank you to our Facebook fans for all your recommendations. Here is the list of some of the more popular suggestions if you want to celebrate Cinco de Mayo in Hendricks County:
El Cerrito (Plainfield)
El Meson (Avon and Plainfield)
J's Taco Inn (Lizton)
La Hacienda (Avon)
Los Rancheros (Avon)
Los Toros (Brownsburg)
Tequila Sunrise (Brownsburg)