If you are planning a visit to Hendricks County, consider going to dinner in nearby Mooresville, Indiana, at
Zydeco's 5
. I first learned about this Cajun sensation located on Main Street in Mooresville while watching "Diners, Drive-ins and Dives." Guy Fieri featured it and piqued the interest of many Food Network junkies like myself. So, I knew I had to have dinner there.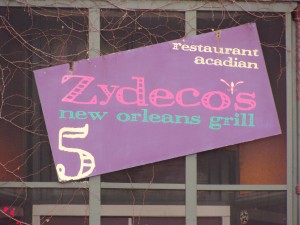 Hoosier girl meets boy in New Orleans...
Zydeco's 5
is owned by Carter and Deb Hutchinson. Deb, a Hoosier native, met Carter in New Orleans. After Carter moved to Indiana to be with Deb, the couple decided to open a Cajun restaurant. Here's an interesting side note: Even though Carter is from Louisiana, he is a Colts fan and Deb, a Hoosier native, is a Saints fan. During the Colts/Saints Super Bowl a few years back, the couple were interviewed by national and local news media. You can watch some of the
interviews on You Tube
. These videos give you a real feel for the fun atmosphere of Zydeco's.
Mardi Gras in Mooresville...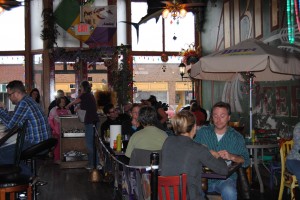 When I walked into Zydeco's 5, I felt as if I stepped into a restaurant in New Orleans during Mardi Gras. I could tell right away that this was a fun place.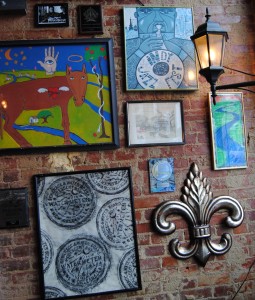 As I looked around, I could see artwork covering the walls (most of which is Carter's work) and of course beads. In the back of the restaurant, there are a couple of walls stocked with products from Louisiana. One whole wall is stocked with the Louisiana beer, Abita.    
Spring brings crawfish...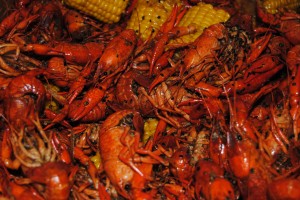 Zydeco's regulars can't wait for spring. Spring is the season for crawfish. For about two months, crawfish are flown in weekly from Louisiana for
crawfish boils
on Friday and Saturday nights. Carter prepares the crawfish out back. The crawfish are first soaked, then rinsed, then put into a huge pot to be boiled. I talked to a "regular" at Zydeco's who drives up from Bloomington often to enjoy dinner at Zydeco's with his wife. He knows spring has arrived when he has his first plate full of crawfish. He makes it a point to get a plate from the first batch of the season.
If you like Lobster....
So, even though I love watching the Food Network, I can be skiddish about trying new things. I had never had crawfish, and after seeing them crawl around in the "bath" that Carter was giving them, I was even more unsure.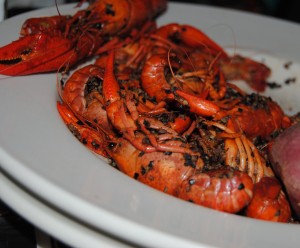 But Carter asked if me if I liked lobster and shrimp. I love those, so Carter was sure I would like crawfish. I tried it and you know what, it did remind me of lobster. I'm not sure what I was so afraid of, but I am now a fan of crawfish. If you want to try crawfish at Zydeco's, be sure to call ahead or check their
Facebook
or
Twitter page
to see if they are having a crawfish boil the night you plan to visit.
Besides the crawfish boils....
The most popular items are the BBQ Shrimp and the Jolie Blond Pasta. One of my favorite menu items is the oyster po boy. All of the oysters and crawfish are flown in fresh, and I could tell. It was the best oyster po boy I have ever had.
Click here to see the full menu.
Never had Cajun, then try....
For those of you who have never had Cajun food, I asked Deb what menu items are best for the novice. Deb suggests that you start with the basics, red beans, jambalaya or gumbo. Be aware, not all Cajun food is hot. Deb told me that this is a common misconception. "You can cover a lot of shortcuts with heat but real Cajun cooking has nothing to do with heat, just a chef that knows how to coax the best flavors out of anything," she told me. "Cajun food should dance in your mouth, and if there is any heat at all it is just part of the dance, not the main course."
Family Friendly....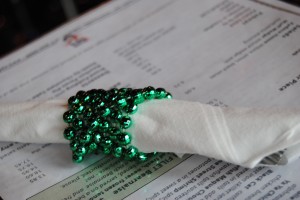 Before I went to Zydeco's I wasn't sure if it would be "kid-friendly." I didn't know if there would be anything on the menu that my daughter would like. But, it is very "kid-friendly." They do offer a kids' menu, with all the regular things you find on a children's menu. Another favorite with kids, the silverware comes wrapped in beads that you can take home as a souvenir. When I have been to Zydeco's, I always see families enjoying dinner together.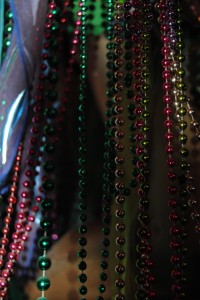 Make a reservation...
It is best to make a reservation, because they are often busy. Especially during Friday and Saturday nights when they are having a crawfish boil.
Follow on Facebook and Twitter...
Be sure to follow Zydeco's on
Facebook
and
Twitter
for updates on the crawfish boils.
On the trail...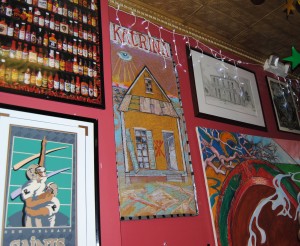 Zydeco's 5 is on the
Rural Routes to Main Street Cultural Trail
, a self-directed, self-guided driving tour featuring more than 30 arts and culture attractions in Hendricks and Morgan counties.  
Zydeco's 511 E. Main St.Mooresville, Indiana(317) 834-3900(866) 993-3265Hours:5-9 p.m., Wednesdays 5-9 p.m., Thursdays 5-10 p.m., Fridays 2-10 p.m., Saturdays