As I'm driving out to Montrose Farms Alpaca Ranch in Brownsburg to meet with the owner Lori Lovely, I began to doubt my GPS. It seemed odd an alpaca ranch/farm would be located within close proximity to residential areas. Once I pulled into the long driveway, I noticed a farmhouse, barns, pastures and, of course, alpacas!
No wonder Lori hosts an annual open house to celebrate National Alpaca Farm Day. Montrose Farms Alpaca Ranch offers beauty, history, learning opportunities and tons of fun! Bring your friends and family out this Saturday, Sept. 23 from 11 a.m.-4 p.m. to experience this unique event in Hendricks County.
Here is a preview of Montrose Farms' National Alpaca Farm Day activities.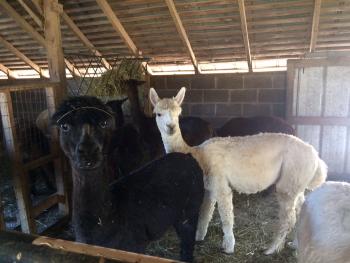 Tours
Meet the Alpacas! I knew little about these animals before my visit to Montrose Farms. But I soon learned how intelligent, trainable and friendly they are. Lori shared lots of information and answered all my questions immediately. I could sense her passion.  
Feel free during the tours to ask questions. Some questions to get you started/things you can learn:
Why can't they bite you?
What part of their body do they prefer to be petted?
What is the lifespan of alpacas?
Why do males and females need to be housed in separate barns and pastures?
What is an ideal way to cool them off on a hot summer day?
Will they respond to their name?
Yes, every alpaca on this farm has a name. They use race car drivers for the males and flowers for the females.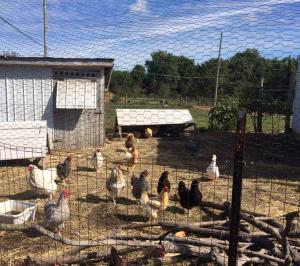 Montrose Farms Alpaca Ranch provides a home to other animals as well. Several livestock guard dogs live among the alpacas to protect them from predators. These dogs are large but friendly to people and enjoy human attention.
Be sure to check out the chicken coop. Montrose Farms raises free range chickens for organic egg production. Once their egg-laying careers end, they retire on the farm. Bantam chickens, some of the smallest in the world, can be purchased as pets at the farm. Lori knows these animals as well, so again, ask questions!
Interactive Fleece Processing Demonstrations
Montrose Farms Alpaca Ranch boasts top quality Suri alpacas with stunning fleece. You can view the process of fleece becoming a finished good for hats, scarves, and socks during the open house. The fiber processing involves spinning demonstrations by Land Goods Inc.
Suri alpaca fleece is hypoallergenic, warm, moisture wicking and flame retardant. Finished goods will be available for purchase, which leads me into the shopping aspect of this open house.
Shopping
While visiting the ranch, I had an opportunity to view/touch the finished goods from Suri alpaca fleece, and I couldn't believe how soft it is. Visitors can purchase blankets, hats, socks, scarves, teddy bears and dryer balls at the open house.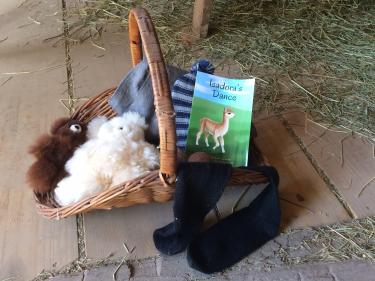 The dryer balls, which replace dryer sheets, remain a popular item. They last forever, and no chemicals are present.
Lori wrote a children's book, Isadora's Dance, about a blind baby alpaca that is also available for purchase. A beekeeper from April Fool's Farm will sell local honey as well. It's never too early to purchase Christmas gifts.
History
Curious about Montrose Farms background? Lori loves history and enjoys discussing the historical elements of the farm. The farmhouse was built in 1876. The biggest barn on the property has 1879 carved into it's hand-hewn beams.
James Brown, a veteran of the War of 1812, acquired this property as part of the Land Act of 1820. The town of Brownsburg was named after him. Historical nuggets like those merely scratch the surface. Lori can certainly provide more details.
Photo Opportunities
The always popular alpaca face in hole board will be on site for photo opportunities. Families love to take cute pictures there to have a lasting memory of this event.
Of course, you will come across many more photo opportunities on the farm during this authentic experience that only occurs once a year. National Alpaca Farm Day promises fun and unique experiences for residents and visitors of all ages.
Admission is only $2 (accompanied children 12 and under are free). Montrose Farms Alpaca Ranch, 3750 N. County Road 950 East, Brownsburg, loves hosting this event and looks forward to sharing the farm with the community.
Throughout the year, Lori loves to give more personal tours to small groups. All ages welcome. Call the number listed below to schedule a tour.