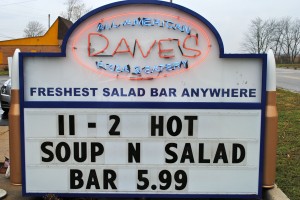 When my wife and I moved to
Hendricks County
 in 1999, we asked around to find out about the best
places to eat
. Among the most popular responses was Dave's All-American Pizza & Eatery, 1247 W. Main Street in
Danville
, Indiana. We tried it out, and years later, it's still one of our favorite places to dine. Operated by Dave Byrdwell for nearly 40 years, Dave's is known as much for its atmosphere as its food. Nearly every square inch of the restaurant celebrates our nation's military and its members -- past and present -- complete with flags, life-sized mannequins and statues in military gear, along with countless military memorabilia. Over a decade and dozens of trips to Dave's later, I still find something new in there nearly every time we visit.
Dave's is well-known for its large, fresh salad bar along with its diverse and delicious menu that features pasta, sandwiches, pizza and steaks. My wife and I have tried virtually every item on the menu and have yet to find one we don't like. Their pizza is one of our favorites -- we even enjoyed a heart-shaped pizza there on Valentine's Day one year -- because the crust is thin and crispy, the toppings are plentiful, and the sauce is made from scratch, using a secret recipe created by Byrdwell himself. I'm also especially fond of the Super Sub and the Valley Forge Stromboli (minus the mushrooms -- I don't like mushrooms).
Spud Night
My wife, however, looks forward to Wednesday nights at Dave's the most because Wednesday is Hot Spud Night. Enormous potatoes are stuffed full of ingredients you wouldn't normally associate with spuds:  Louise Dreyer's Meatball Express Spud, El Taco Supreme Spud, Pearl Harbor Hawaiian Spud and the Yankee Pot Roast Spud are just a few of the 15 different varieties that can be found on the menu.
There are also five different ways to build your own spud, choosing from up to four of the 14 yummy toppings ... plus mushrooms. My personal favorite is the Club Spud, which is filled with ham, turkey, salami and Swiss cheese and then topped with creamy Italian dressing. My wife likes to build her own, usually with bacon and shredded cheddar cheese on top. The best part about Hot Spud Night is that the vast majority of the potatoes offered cost right around $5 a piece or less. It's a delicious way to fill your belly without emptying your wallet. You can find your own favorite dishes at Dave's for lunch from 11 a.m. to 2 p.m. Tuesday through Friday and for dinner on Tuesday through Saturday. The dinner doors open at 4:30 p.m. and close at 9 p.m. on the weekdays while staying open until 9:30 p.m. on Friday and Saturday. Whether you live in or are visiting Hendricks County, make a point to stop in for a meal at one of the iconic establishments of the area. Considering Veterans Day is almost here, I personally can't think of a better way to celebrate. In fact...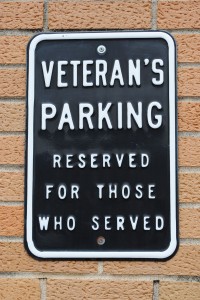 Veterans Day Dinner
As you might expect from an All-American Eatery that's chock full of military memorabilia, one of the biggest holidays of the year at Dave's is Veterans Day. Every year, Byrdwell opens Dave's up on the Monday closest to Veterans Day and serves
free
prime rib dinners to those who have served in our nation's military. "We don't do enough [in our society] for our veterans," Byrdwell told me. "This is just my way of saying 'thank you' to the men and women who have served and letting them know how much I appreciate their sacrifices." Byrdwell reports that veterans not only come from Hendricks County but also from around Indiana and from as far away as Ohio and Illinois. (I've had the prime rib at Dave's. I understand why they come from so far away!) Byrdwell records his guests' military branch, years of service, rank, and hometown as they arrive and every year, hundreds of veterans -- many of whom are repeat customers -- convene at Dave's, often wearing their uniforms. This year's event takes place from 
4:30 to 9 p.m
. 
Monday, Nov. 12.
  Members of the
Kiwanis Club of Danville
will also be there, volunteering their time to help the staff of Dave's serve these invaluable people who have served our nation. To all of the veterans of the United States military, thank you.