Are you are a train collector or know someone who is? My dad loves train sets and growing up we always had a train in the house. Two of my favorite memories from those days were the train or trains set up to go around the Christmas tree, and that the trains had actual smoke coming out of the engines. Well, my dad is looking to start up a new train set, so I was thrilled to be able to tell him about an event he can attend right here in
Hendricks County
.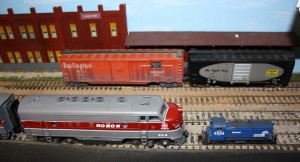 The Central Indiana Train Show will have so much to see and do for that kid in all of us from 10 a.m. to 4 p.m., Saturday, Nov. 17 at the
Hendricks County 4-H Fairgrounds and Conference Complex
, 1900 E. Main St., Danville, Indiana. What a perfect way to meet other train collectors and find out more about what type of train or accessories to purchase. (The holidays are right around the corner you know!) If you enjoy taking photos, there will be working layouts and many trains chugging through the displays.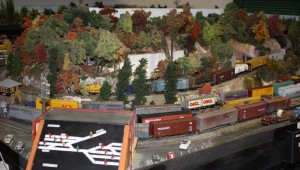 I spoke with John Pancini, who is with the Central Indiana Division of the National Model Railroad Association who is hosting this event. John told me the popular train show is very kid-friendly this year with a "Kids Detail Hunt," where children can search for items (people or objects) on the train layouts. What a great way to introduce trains to kids!  John also said the train show is more and more popular each year with 90 vendor tables expected. Did you know that HO (which is a type or "scale" of model train) is the most popular model train? If you're a trivia buff and want to learn more about model trains, check out the
National Model Railroad Association's website
.
Insider tip:
If you're a train collector or new to trains, John Pancini recommends a visit to Big Four Hobbies, 1005 E. Main St., Plainfield (a hobby and model shop) in Hendricks County.  I plan to visit there with my dad very soon! Hope to see you at the Central Indiana Train Show!
When: Saturday, November 17th
Where: Hendricks County 4-H Fairgrounds and Conference Complex, 1900 E. Main St., Danville
Cost: Free and free parking!
Time: 10 a.m. until 4 p.m.
Tips:  Kid-friendly. There will be train dealers on-hand should you want to purchase any trains or train accessories. Other happenings include model judging and door prizes.