Danville's Market expanding, closing street...
If you already enjoy the farmers market season in
Hendricks County
, I have good news: It's getting bigger and better this year especially in
Danville, Ind.
, the biggest of the Hendricks County farmers markets.
These markets traditionally created to sell local produce have begun to evolve, so if you haven't been recently, especially in Hendricks County, you may want to check one out. And there is no better place to start than in
Danville
, which hosts its farmers market from 8 a.m. to noon every Saturday this year from May 12 to Sept. 15. The days of produce-dominated markets are gone. Kathy Stamper, Danville's market master, said she welcomes all quality, hand-crafted local goods. So, when Danville's market opens on May 12, a few of the new products will include truffles, Amish cheeses and noodles, African jewelry and purses, bath and body lotions and kettle corn. Due to the work of Stamper and others, more than 30 vendors will sell their goods, which is about 10 more compared to the end of last year's season. In addition to beefing up the number of vendors and mix of goods, organizers will make the event much safer and easier to navigate by closing Jefferson Street on the west side of the Hendricks County Courthouse Square to vehicular traffic. "We want this to become a community event each week," Stamper said. "I've been to a lot of (conferences) with other statewide farmers market leaders. The majority of successful markets offer entertainment and other nuances that make them a destination where people stay longer and continue to come back." In addition to more vendors and a more eclectic mix of goods, Danville's market will have some type of entertainment each week, usually of the musical variety. It's not surprising to me that Danville would be the Hendricks County leader in transforming farmers markets as this burgeoning arts and culture community continues to spread its wings.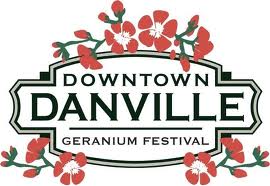 The annual
Geranium Festival
also will help kick off the county's oldest and biggest farmers market on May 12. Set up on Marion Street on the south side of the Square, the Geranium Festival gives Danville businesses an opportunity to sell items and hand out information while the local FFA and Hendricks County Garden Club sell flowers and other plants from 9 a.m. to 3 p.m. The other Hendricks County's  farmers markets get started in June. A brief description of each follows:
Avon Farmers Market — 4 to 7 p.m., Tuesdays, June 12-Sept. 18 in the parking lot of the Avon Hendricks Regional Health along U.S. 36 just east of Dan Jones Road. Market consists of 20+ vendors offering a variety of homemade and homegrown items such as honey, breads, cupcakes, gluten-free noodles, fresh fruits and vegetables, jewelry, aprons, and more. Website: www.avonchamber.org.
Brownsburg Farmers Market — 3:30 to 6:30 p.m., Thursdays, June 14-Sept. 6 at Brownsburg Town Hall. About 20 vendors will help boost this year's market with locally grown fresh fruits and vegetables, home-baked goods and hand-crafted items. Organizers also plan to add some live music, weekly drawings and a health tent this year. Website: www.brownsburg.com.
Plainfield Farmers Market — 4 to 7 p.m., Wednesdays, June 6 through the end of September at a new location on the lawn of Plainfield Friends Meeting , 105 S. East St.  The market will include about 10 vendors who sell locally grown produce, honey, handmade clothing and dairy products with "special event" days throughout the summer with demonstrations, discussions and more.  Web site:  www.plainfieldchamberfarmersmarket.org.