Charbonos has been a local favorite in Avon for over 13 years. A recently refreshed interior with a Tuscan countryside feel brings guests into another world. Set up a date night, take the family out for dinner or meet up with friends for a special celebration, Charbonos will delight your tastebuds and their first-class service will keep you smiling.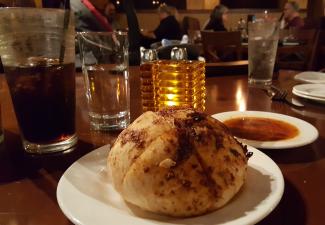 Date Night
With a menu that includes signature dishes and common favorites, everyone can find something to love on the lunch and dinner menus.
Scoop into the Triple Dip appetizer, with your Naan or focaccia bread for tastes of fire roasted tomatoes with goat cheese, spinach artichoke dip and red pepper hummus. The beef tenderloin medallions with lobster risotto will melt in your mouth.
Family Night
Warm, tasty bread with dipping oil is a great way to keep the kids happy until their entrees arrive.
Not only will you find common kiddo favorites on this tot menu, you'll also find a gallery of choices for the aspiring foodie kid; Bistro steak, chicken parmesan and penne pasta with red sauce are a few of the special offerings.
My family enjoyed the chicken pesto pizza prepared perfectly in the restaurant's brick oven. And yes, it tasted every bit as good as it looked!
Friends Night
A full bar and wine list provide many options to toast the a night out. The warm atmosphere and decor provide a great space to catch up with old friends and get to know new ones.
They even have an amazing bar area secluded from the rest of the dining room allowing friends to drink, graze and simply hang out. And with food offerings ranging from fish and steak and chicken to pizza, pasta and sandwiches, everyone will be happy with their choices.
Celebrations
Seating is available for parties large and small. Private dinning is available for very large parties to reserve. Birthday parties, anniversaries, reunions and other get-together attendees will love leaving the food and service to Charbonos so the celebration can take place without a care.
Looking for the best place for lunch, dinner or drinks and appetizers with friends, Charbonos in Avon is a great pick for everyone!