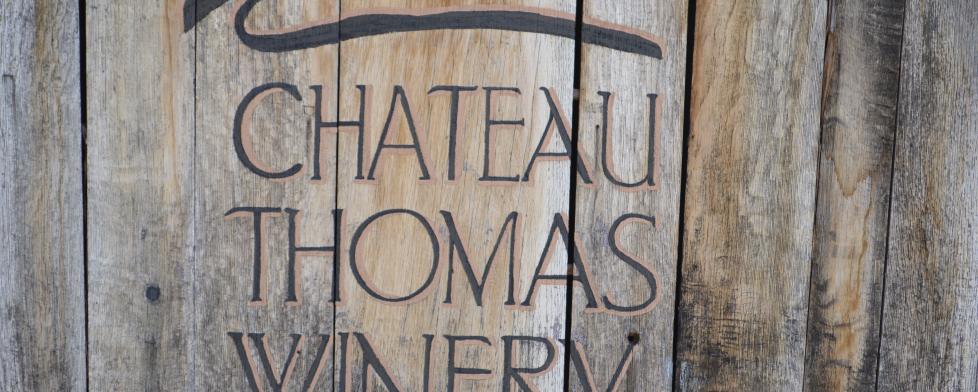 Indiana turns 200 this year, and all over the state there are unique events to celebrate this huge occasion. Here in Hendricks County, we are celebrating in all kinds of ways, but the one I am most excited about occurs later this month and features delicious food served with a helping of history.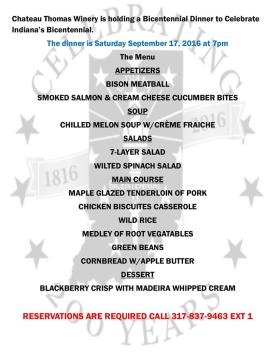 Chateau Thomas Winery in Plainfield is hosting a Bicentennial Banquet to honor Indiana's rich history. The banquet will be held on Sept. 17, and will feature food and drink that were popular at the time of Indiana's founding. The banquet staff will wear historical clothing, and live period music will be performed by Ivan Crash.
The inspiration for this unique dinner comes not only from Indiana's bicentennial but also from historical research. Winery President Dr. Charles Thomas was deeply inspired by the ingenuity and resourcefulness of Indiana's early settlers to create delicious meals from the resources they had on hand.
In a world without grocery stores, cars, or the Internet, Indiana's earliest residents were able to make the best of what they had to create hearty and tasty dishes that would sustain them as they settled this new frontier.
What does this historic menu include? In the 1820s, bison was much more common than beef, wild rice grew all over the plains, and root and green vegetables were staples. Cornbread, wild berries and apple butter were also regular food items created from local resources.
Chef Pete Gulesean has blended all of these elements into an amazing and innovative menu. Another great Hoosier tradition, apple cider, will be represented by an Indiana Hard Cider from New Day Meadery.
In addition to all of this, several Chateau Thomas wines and full bar service will be available. Children are welcome at the banquet, and there will be non-alcoholic cider available for them. 
Is your mouth watering yet? Mine sure is. Here's how you can make sure you don't miss out on this delicious and historically rich meal:
What: Chateau Thomas Winery Bicentennial Banquet
When: 7 p.m. Saturday, Sept. 17.
Where: Chateau Thomas Winery, 6291 Cambridge Way, Plainfield.
Cost: $35 per person; $15 for children ages 5-12, children under 5 are free.
Reservations: You MUST make a reservation to secure your spot! Make your reservation by calling 317-837-9463, Ext. 1.