Are you looking for a relaxing way to enjoy a Friday evening in
Hendricks County
? Head to
Chateau Thomas Winery
for
Music on the Veranda
. This free outdoor concert series in Plainfield, Indiana, is held every Friday night from June through September. For visitors, it can be the perfect start to a weekend getaway in Hendricks County as you can literally walk from Chateau Thomas to some wonderful
hotels
nearby.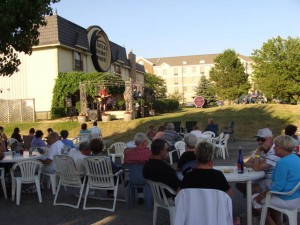 My husband and I recently went to
Music on the Veranda
with our daughter and another couple and had a great evening. We took our own lawn chairs and found a spot in the shade. If you don't want to take your own chairs, there are a few chairs and tables set up on the lawn and in the parking lot. After finding our spot, we then grabbed wine and food from the winery's outdoor "wine stand" (a former ice cream shop next to the winery). If you do not drink wine, beer, soft drinks and water are also available. The winery also serves sandwiches and cheese platters. I had the pulled pork sandwich that came with two sides. The sandwich was delicious and it was piled high. In fact, it was plenty for my daughter and me to share. The event was well attended by all ages. Before we went, I had to decide if I should take our daughter or make it a date night. In the end, I took our daughter, and I was glad I did. There were several other young children there, and my daughter had fun dancing to the music. It truly is an event for all ages. If you have never had Chateau Thomas wines or you just want to do a wine tasting while you are there, the tasting room is open. Wine tastings are $5.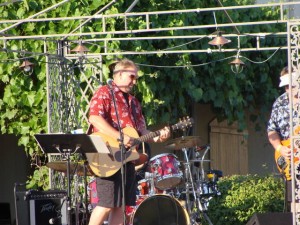 I have recommended
Music on the Veranda
to all my friends and plan to go to a few more concerts this summer. Maybe I'll see you there.
Chateau Thomas Winery
is located at 6291 Cambridge Way in Plainfield. It's off I-70 and Ind. 267.
Concert Lineup
June 29 - Ronnie Lee - Classic Rock and Pop July 6 - Tim Brickley - 60s, 70s and 80s Acoustic Favorites July 13 - Sure Thing July 20 - The Woomblies - R&B and Classic Rock July 27 - Grass Skirt Sunsplash - Rockin' Reggae for the Soul August 3 - Open Road - Country, Pop, High Energy Southern Rock August 10 - Gary Applegate - Blues August 17 - Acoustic Catfish - Folk and Pop Classics August 24 - Mojo Gumbo - Blues August 31 - TBA September 7 - Mike Milligan & Steam Shovel - Industrial Strength Blues, Soul and Rock September 14 - Chris & The Social Studies - Rock with local Social Studies teachers September 21 - Impasse - Pop Rock Band September 29 - Inaugural Hog Roast with Gary Applegate performing.