Thirty years ago, Ronald Reagan was president. Mac personal computers went on sale for the first time in the U.S. and Chateau Thomas Winery was born.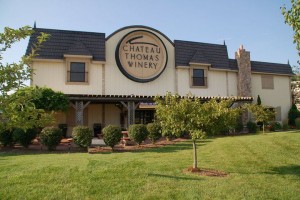 Over the years,
Chateau Thomas Winery
has become one of my favorite attractions in Hendricks County, so I'm looking forward to their 30th anniversary celebration later this month. On Saturday, Jan. 18, Chateau Thomas has an event planned that will include bringing out some of their vintage wines, preparing plenty of great food and providing entertainment during their
30th Anniversary Celebration
. Cost is $75 a person and includes award-winning wines, hors d'oeuvres and a fantastic dinner prepared by Chef Peter Gulesian.
I'm all for a party with wine and food, so I contacted Chateau Thomas' founder and owner, Dr. Charles Thomas, to find out a bit more about the celebration.
What does Chef Pete have planned for the dinner? What's the menu (can you tell me a little more about it)?
The hors d'oeuvres are still a secret. The first course is a special creation with shrimp and crab in a special presentation. The fish course is Swai, a Vietnamese fish in the catfish family that is only recently available locally. It will be prepared with a Veronique sauce. The sorbet is made from our 1983 Pinot Noir. The main course is classic rack of New Zealand lamb. A cheese course includes four cheeses, all different types, textures, and sources. The dessert is just as the title suggests -- death by chocolate.
Will there be any special wines for the dinner?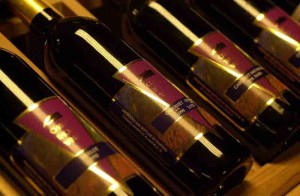 All of the wines will be special. Four of the seven wines (Chardonnay, Pinot Noir, Merlot and Cabernet) were made in the first year of the winery. We have been patiently storing and babying these wines for 30 years. Now they are ready to shine. The hors d'oeuvre wine is a sparkling wine that was made in 2000 (Millennium), but not disgorged until 2013, which keeps it fresh for 13 years. The dessert wine is a late harvest Zinfandel -- a wine like vintage Port and also from a Jeroboam (4 bottles in one) that extend the aging of the wine.
What about entertainment?
A Master of Ceremonies (We are working a special guest who is checking on scheduling conflicts) will provide a timeline of the winery and its developments and accomplishments.
What originally made you want to go into the winery business? And, where was your original location?
As a home winemaker, my urge to excel got away from me, and I decided to start a winery. When I told my wife, she said, "What took you so long?" Our original location was in Indianapolis close to Expo Bowl, then west of Beech Grove, and then in downtown Indy before building our current building in 1997.
Raise a glass and toast to Chateau Thomas Winery for 30 years of excellence (one of Indiana's most beloved wineries!) Here's what you need to know about their Jan. 18 celebration:
What:
Chateau Thomas Winery's 30
th
Anniversary Celebration
Where:
Chateau Thomas Winery (Vineyard Room), 6291 Cambridge Way, Plainfield, Indiana
When:
7–10 p.m., Jan. 18.
Cost:
$75 per person, which includes hors d'oeuvres, dinner and wine.
R.S.V.P.
by Jan. 10, if possible, by calling (317) 837-9463.