I realize this has been a rough winter with all the snow and two appearances by a polar vortex, which prior to this month wasn't even part of our vocabularies. But with all that said, better days have to be ahead, so I wanted to share an insider tip that I don't think many people even think about -- going to an outdoor recreation area like
Sodalis Nature Park
 in Plainfield during the winter months. Even through the winter the park is open dawn to dusk daily.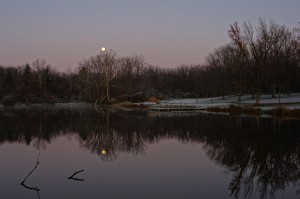 I mentioned this two years ago in a blog after talking to a naturalist from the 
Hendricks County Parks and Recreation Department
, but felt it needed to be touched on again because too many people, including yours truly, have that preconceived notion that parks can't be enjoyed in the winter. Believe it or not, Sodalis can be stunningly beautiful this time of year as evidenced by some of the pictures in this post. Experiencing a nature park like Sodalis in the winter even provides some advantages compared to other seasons. The trees don't have their leaves making bird watching so much easier. Large hawk sightings especially tend to be common at Sodalis this time of year. Winter also is the time of year when deer shed their antlers, so a stroll through their 210 acres, including more than three miles of nature trails and a quarter mile of paved trails, could provide a family with a souvenir to bring home. Close to many population centers at 7700 S. County Road 975 East, the park also provides a great option for walking that dog that has been cooped up in a house or backyard all winter. The parks department does have programs through the winter months at Sodalis. The next one will be at 11 a.m. this Saturday, Feb. 1, when a naturalist leads a group through the park's groundhog habitat in honor of Groundhog Day. Hopefully, participants will not see the groundhogs' shadow because spring can't come soon enough for me.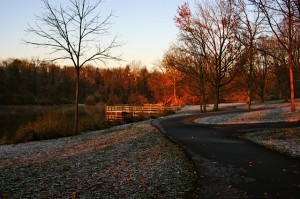 Then, on March 8, naturalists will provide insight on some of the animals that roam the park even allowing participants the opportunity to touch a beaver felt and skunk hide, skulls and more. But Sodalis isn't the only nature park in Hendricks County. It is just the newest and less visited of the two county parks, which is why I decided to feature it. McCloud Nature Park has many of the same opportunities on the opposite side of the county near North Salem at 8518 N. Hughes Road. Unlike McCloud Nature Park, Sodalis doesn't have a Nature Center yet, so if you visit the park on a day other than when they are hosting a program, you likely won't find anyone who can help you. But don't fret. Here are some tips if you decide to make a winter trip to Sodalis: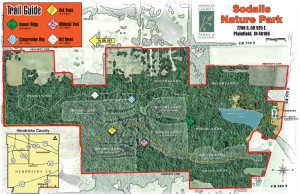 Get a Trail Map by clicking on this link or at the kiosk inside the park and take a hike on one of the various trails.
The park's most popular and probably most scenic trail this time of year is Beaver Ridge Trail. It raps around the back edge of the pond and has numerous scenic overlooks.
Trails at the back of the park like Whitetail and Bat Haven, potentially provide the best opportunity to see wildlife. Also, be sure to check out the park's bat boxes and reforestation areas. After all, the park's name -- Sodalis -- came from its inhabitants, the federally endangered Indiana bat, Myotis sodalis, which lives in wooded areas in and around the park.
So get out this winter and enjoy this protected treasure we have right here in Hendricks County!