During the hot summer months, my daughter and I love to cool off at water parks. Recently, we checked out three popular spots in Hendricks County. We visited Splash Island in Plainfield, the Gill Family Aquatic Center at Ellis Park in Danville and the Splash Pad at Washington Township Park in Avon.
Splash Island Family Waterpark
I will start with the most well-known spot to cool off in Hendricks County,
Splash Island Family Waterpark
in Plainfield. It was our first visit to Splash Island, and I was very impressed. When we arrived, I was concerned because it looked very crowded. But once we went in, there was plenty of room to spread out, and we didn't feel crowded.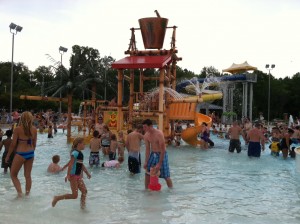 My daughter went straight for Castaway Bay, an interactive area for children with a zero-depth entry, slides and a dipping bucket that dumps 281 gallons of water every 5 minutes. But I do need to warn you about the bucket; be aware of when it's about to tip. My daughter got a great laugh out of me being underneath it when it dumped. I'm glad it was a hot day! My favorite part of the park is the new Leisure River, and I'm so glad my daughter liked it too. It is really relaxing to lounge on a tube and let the water guide you through the river. The nice thing for parents, there are double tubes available. One side of the tube does not have a hole in it, so it is great for young children to sit in. You don't have to worry about getting separated or your child going under water. If your child wants a break from the water, head to Sand Castle Cove. There are lounge chairs in the cove and a shade umbrella. My daughter enjoyed the sand area just as much as the water.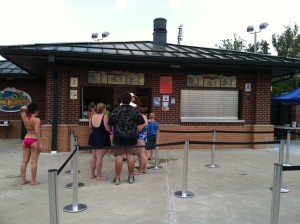 If you get hungry, there is a concession stand inside the pool area. Snackabana offers hot dogs, sandwiches, pizza and more. But if you don't want to spend money on snacks, you can bring a cooler in with you. Splash Island has something for everyone. Visitors have the option of going down three water slides, diving off spring boards, playing water basketball, relaxing in the Leisure River or sunbathing.
Hours:
10 a.m.-6 p.m. Monday-Saturday; Noon-6 p.m. Sunday; and Wet Wednesdays 7-10 p.m. (June 27, July 4, 11, 18, 25 and Aug. 1).
Admission:
Adults $8.75 or $6.25 (Plainfield resident); Youth $7.50 or $5.25 (Plainfield resident); Preschool $5.75 or $4.25 (Plainfield resident); Senior Citizen $7.50 or $5.25 (Plainfield resident); Late Afternoon (3-6pm) $6.50 or $4.75 (Plainfield resident); Wet Wednesdays (7-10pm) $6.50 or $4.75 (Plainfield resident)
Insider Tips: Save money, go after 3pm for reduced admission. Coolers are allowed. Lockers are available for 25 cents.
Gill Family Aquatic Center
The
Gill Family Aquatic Center
in Danville's Ellis Park is a great place to take your family. It's small enough that you can keep track of the entire family, but large enough to have something for all ages. The park has two water slides, a splash pad and a zero depth entry pool with a small slide for young children.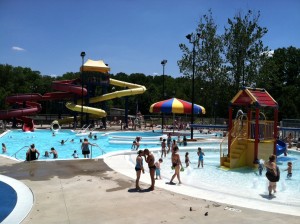 My daughter loved playing in the children's area. It's great for parents, because you don't have to worry as much as when the kids are in the deeper water. My daughter also loved the splash pad area. If you get hungry or thirsty, the aquatic center has a concession stand.
Hours:
11 a.m.-7 p.m., Monday-Saturday; noon-7 p.m. Sunday.
Admission:
$5 for Danville residents and $7 for non-residents.
Insider Tips: Save money by going after 4 p.m.; admission is $3 for residents and $3.50 for non-residents. Lockers are available for 50 cents.
Washington Township Park Splash Pad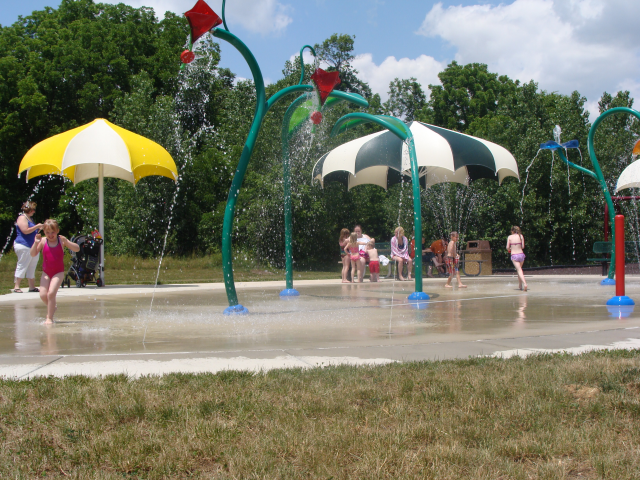 Looking for a free way to cool off? Look no further than the
Splash Pad
at
Washington Township Park
in Avon. I call it a hidden gem. I have talked to other parents in the area, and have often found they are unaware that it exists. The pad is nestled in the lower level of the park away from the hustle and bustle of the highway. In fact, a couple of years ago, I didn't know about the splash pad and found it on accident. Now, you can find my daughter and me there often. It is a peaceful spot with the sound of children's laughter and an occasional train passing in the distance. The pad consists of five water stations. Kids can run from one spot to the next or they can stand under one of the buckets and wait for it to fill and dump the water. Need shade? There are four umbrellas that you can sit under and a two-sided shelter. We always take our own chairs, but there are a few benches and picnic tables in the shelter house.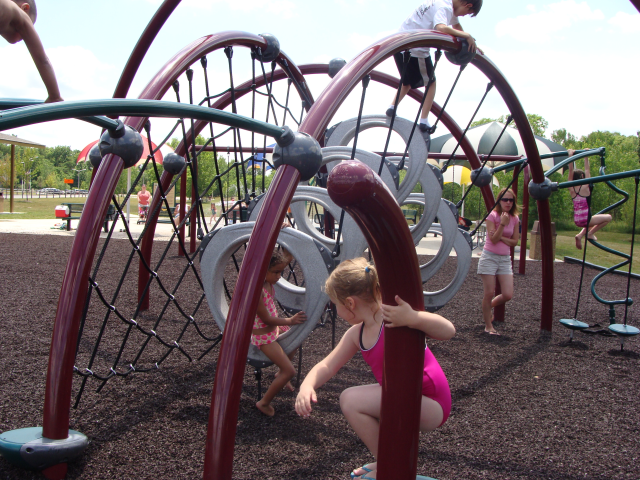 If your kids need a break from the water, there is a playground next to the splash pad. It is designed for kids 5 and older, but there are swings.
Hours:
11 a.m.-7 p.m., every day.
Admission:
Free.
Insider Tip: Bring your own chair and a picnic.