Are you a chocolate fan? A chocoholic? You're in luck! The 2
nd
Annual Chocolate Walk in 
Downtown Danville, Indiana,
begins Friday, Jan. 25 and concludes the following Saturday, Feb. 2.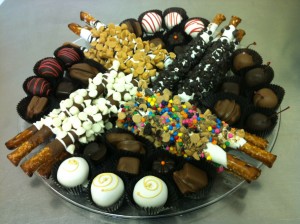 If you haven't been to Danville before, this event provides a perfect opportunity as the Chocolate Walk is free to adults and children. Take a walk around this charming downtown that features the Hendricks County Courthouse Square. (There are lots of good places to take photos and
grab a bite to eat
!) The Chocolate Walk is a collaboration of several downtown businesses. Those participants provide free chocolate samples and discounts on chocolate items to entice people into the downtown area. While the chocolate samples and discounts are the draw, let me tell you once you get there you will be hooked as this quaint town is so welcoming! You can pick up a flyer at any of the participating businesses. The flyer has a map - so it will be easy to find your way around. The flyer shows what type of chocolate offering or discount each participating business will provide. The flyer also will have an entry form to complete for an opportunity to win a gift basket. You must stop in each of the participating businesses, which are all within walking distance of each other and have them stamp or initial the flyer for a chance to win. Those businesses include:
Tips on the Chocolate Walk:
Each participating business will have a poster in their front window.
The Chocolate Walk is free to adults and children.
Parking tip:
Free parking is available.
Don't miss out on the chance to win a gift basket:
Stop in a participating business to pick up your flyer/entry form.