My two daughters, ages 6 and 5, hold Ph.D.'s in Overkill with an emphasis on Beating a Dead Horse. Every time we drive around 
Danville, Indiana
, our girls ask us, "Can we go see the Christmas lights?" They've been doing this since early November, when the first signs of the Town of Danville's annual
Winterland Christmas light display
started appearing.
We drive to
Corky's Fabulous 50's
. "Can we go see the Christmas lights???" We drive home. "Can we go see the Christmas lights???" We drive to
Dave's All-American Pizza & Eatery
. "Can we go see the Christmas lights???" We drive home. "Can we go see the Christmas lights???" You get the picture. So shortly after the
Christmas on the Square
festivities, we got on the Town of Danville's Winterland website and printed off
a $3 coupon
for the gate fee, knocking the price down from $8 to $5 for as many trips around the loop as we wanted. Then we headed to Ellis Park for our annual trip through Winterland, much to our daughters' delight. The friendly greeters at the gate advised us to turn our radio to a particular station, which allowed us to enjoy Christmas music as we meandered through the astounding display that features millions of lights.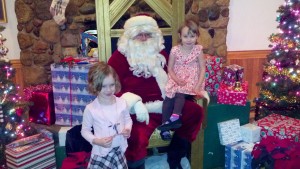 No sooner had we passed through the gate than our oldest daughter, who is really getting the hang of reading now that she's in first grade, spotted a sign about Santa Claus at the Train Station. Our tour of the lights came to a screeching halt as both girls begged to go inside and see Santa. As always happens, however, the moment they laid eyes on Santa, they developed an acute case of bashfulness. While my wife worked on peeling them off her legs and assuring them that Santa doesn't bite, I found the people inside the Train Station who were giving out hot chocolate and goodies. As I munched on a cookie and sipped my warm drink, my wife finally coaxed the girls into giving Santa a try. Our youngest was able to summon the most courage, and she climbed into the chair next to Santa. Our oldest, however, kept her distance. Santa showed infinite patience with them, and eventually they warmed up to him a little bit and were able to tell him what they're hoping he brings them for Christmas. For $5, we got a nice keepsake photo of the girls with Santa, and his elf was even kind enough to let me snap my own photo of them without siccing the reindeer on me.
We got back in the car and back on the loop, killed our headlights, and took several laps around Ellis Park enjoying the Christmas lights, music and each other's company. We all picked out our favorite displays and drove around until both girls zonked out in the back seat -- no doubt with visions of sugarplums dancing in their heads. Danville's Winterland light display is a great reason to come visit
Hendricks County
. It's open seven days a week through Christmas Eve, from 6-9 p.m. Sundays through Thursdays and from 6-10 p.m. on Fridays and Saturdays. Bring the kids to see Santa on Fridays, Saturdays or Sundays from 6-9 p.m. And if you're 
really
energetic, participate in the
Winterland Run/Walk
at 5 p.m. Saturday, Dec. 1 for just $5 per person. Bring a canned food item and receive a prize! Be sure to dress in your most festive clothes, too, because prizes will also be given to the merriest-dressed participants. Register online in advance by clicking
here
or bring cash or a check to the event on Saturday and pay when you get there.