I'm enjoying a delicious cinnamon roll while writing this post. Would you like one too? Then head to the
Cinnamon Girls Bakery & Café
in Coatesville, Indiana, a small town in western Hendricks County along Ind. 75 halfway between U.S. 40 and U.S. 36.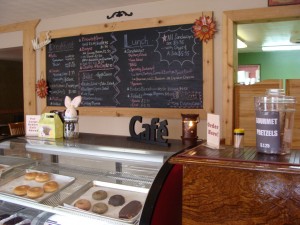 The bakery's signature item is, of course, cinnamon rolls. These rolls are a family tradition. Not only is the bakery owned by Jill Nichols and her daughter Lindsey, Jill's parents also made cinnamon rolls. In 1978, Cecil and Nancy Turpin started Cecil's Famous Cinnamon Rolls at the Covered Bridge Festival in Mansfield, Indiana. Soon after, the business traveled throughout fairs in the state, including the Indiana State Fair. But cinnamon rolls are not the only thing you can enjoy at Cinnamon Girls Bakery & Café. I enjoyed lunch there. Since it was a cold day, I was glad to see a fireplace when I walked in with a table right next to it.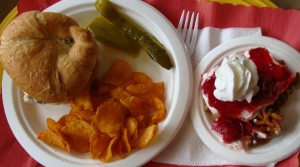 I ordered a chicken salad sandwich with a side of strawberry pretzel salad. The chicken salad was perfect. Not too much mayo and just the right amount of sweetness with the grapes. I also enjoyed the strawberry pretzel salad. It had the right combination of sweet and salty. I was stuffed after I finished lunch, so I took a couple of cinnamon rolls with me to enjoy later. I'm so glad I did. I chose one roll that was iced and the other covered with pecans. I'm having a part of both right now and both are melting in my mouth.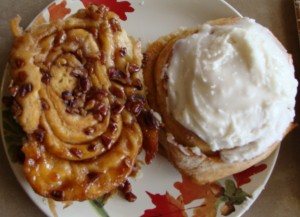 The one with pecans is a great combination of gooey and crunch. The icing on the other cinnamon roll just enhances its flavor. I can taste the vanilla on top of this gooey, sweet roll. Plus, I am eating them warm, which is perfect for a cold day. Now that I have you hungry for cinnamon rolls, I need to tell you about the atmosphere of the café. The interior is warm and inviting. Located in the former Bread Basket Cafe & Bakery before their expansion into Danville, the café is small, which allows for a cozy atmosphere. They have a few tables, couch and coffee table. Plus, there is a fireplace in the corner with a flat-screen television above. I enjoyed my lunch next to the fireplace. I suggest making plans to visit Cinnamon Girls Bakery and Café for breakfast or lunch.  The bakery and café is open Tuesdays-Saturdays. They do not have a website, but you can
follow them on Facebook
to see their menu and learn about daily specials.
Cinnamon Girls Bakery & Café
8026 Main St.Coatesville, Indiana(765) 386-2867Hours: 7 a.m.-2 p.m., Tuesdays-Saturdays