The name
Civil War Heritage Days
conjures up the thought of military maneuvers and cannon blasts, and although there was a good bit of that this past weekend, it is much more when you visit the Danville, Indiana, event.
I was nearby for some of the gun blasts during the
Hendricks County
festival, and I jumped about five feet every time one went off. It made me realize how fierce the noise must have been on a Civil War battlefield. One of the exhibits and talks were set in a surgeon's tent and learning of the tools and techniques on the front lines only reinforced how terrifying it must have been for everyone who was there. My understanding is that more Americans died in the Civil War than in any other war we have fought – and what a brutal experience that must have been. Not only was it brutal on the battlefield, it was arduous marching miles and miles and then waiting for days at the encampments as boredom and anxiety mounted.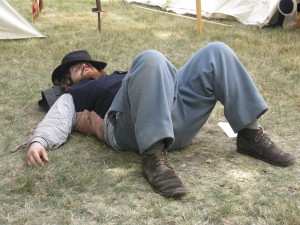 The re-enactors displayed all these aspects of military life – right up to tying your horses just outside the tents – and taking a snooze to pass the time. I visited Timothy the Weaver and Diana Stevens and Doris Martin, the spinners, and learned how fabrics and textiles were produced and about the time and effort it took to do it. Then, I joined Sue Pfeiffer to learn about what clothing was worn and how it was made; and suddenly realized why ladies only had three or four dresses and just how practical they were in making them. For instance, all those corsets? Well, we might like to think they were vanity pieces to see who could have the tiniest waist; however, we would be wrong. With stays of steel, they were worn to support the bosom and to support the weight of up to seven layers of petticoats and skirts! I know it may seem a bit odd, but there was a lively discussion about bonnets at the Hendricks County Historical Museum. Some of the bonnet backs would cover the neck and shoulders completely as well as shade the face. The people of that era were very practical. They covered themselves to prevent sun damage to their skin and protect themselves from biting insects. Tools were important inside and out and many could be found on display from the encampment tents to the collections in the Steinway Building.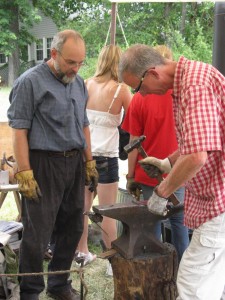 From John Steppe's Blacksmith exhibit, where visitors got some hands-on experience, I learned that most items used in the home and on the farm were crafted by hand in those days. Having more than one ladle by the fire was a luxury. A gift of that sort was not taken lightly. It puts that mixer for her birthday present in a new light, doesn't it? Fragile looking buggies and even a horse-drawn hearse reminded me of how much slower and simple life was over a century ago. No buzzing over to the grocery store for a forgotten gallon of milk or bottle of vanilla. If you didn't produce it yourself, you either made do, or did without.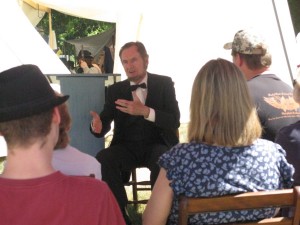 There were talks by a variety of historical figures including Abraham Lincoln and Ulysses S. Grant. A roll call of documented Hendricks County Civil War veterans was called in the Courthouse Rotunda. Period entertainment, including plays and performers, provided music and giggles. Authentic tools, quilts and clothing from the period were available to see. There were other events and activities, too many to tell you about them all here. It's not every day you have the opportunity to actually glimpse into the past. At Civil War Heritage Days there was just that chance for adults and children alike to see history and make it real. Sorry if you missed it. Hopefully, I will see you there next year!