A long-time favorite restaurant in Hendricks County, Indiana, that fell victim to the pandemic of 2020 has reopened at last under new ownership. The Clayton Grill & Cafe opened back up in December 2022 and is a little bit the same and a little bit different than its predecessor.
As with many small businesses -- especially restaurants -- around the country, the multi-month shutdown of society in 2020 was too much to withstand, and the Clayton Café closed and sat empty. Once life finally started returning to normal, lifelong Hendricks County gal Christian Arnett purchased the business, remodeled the interior and opened the Clayton Grill & Cafe for breakfast and lunch.
Being a regular patron of the previous Clayton Cafe, I was curious to see how Christian's version compared.
What's New 
The changes are obvious from the moment you walk in the front door. The breezeway of old is gone, opening up more space in the front dining area. In addition to a fresh coat of paint and new wall décor, there is a beautiful new countertop where customers can sit and eat, plus new tables and chairs throughout.
The back dining areas are more open now, instead of sectioned off, so the flow of the restaurant is much better. 
The kitchen is set up differently, and there's now an opening through which patrons can see the cooks at work and cooks can pass orders through to the servers.
The overall feel of the cafe exudes comfort, coziness, cleanliness and cheerfulness. 
The menu is also new, with Christian introducing us to her versions of traditional Clayton Cafe favorites while also adding items to her menu that didn't exist with the previous rendition of the restaurant. 
The cafe is now open from 6 a.m. to 3 p.m. Mondays through Fridays, and they've dabbled with staying open for dinner on Fridays since early February. The experiment appears to be paying off, as they continue to regularly provide dinner on Fridays.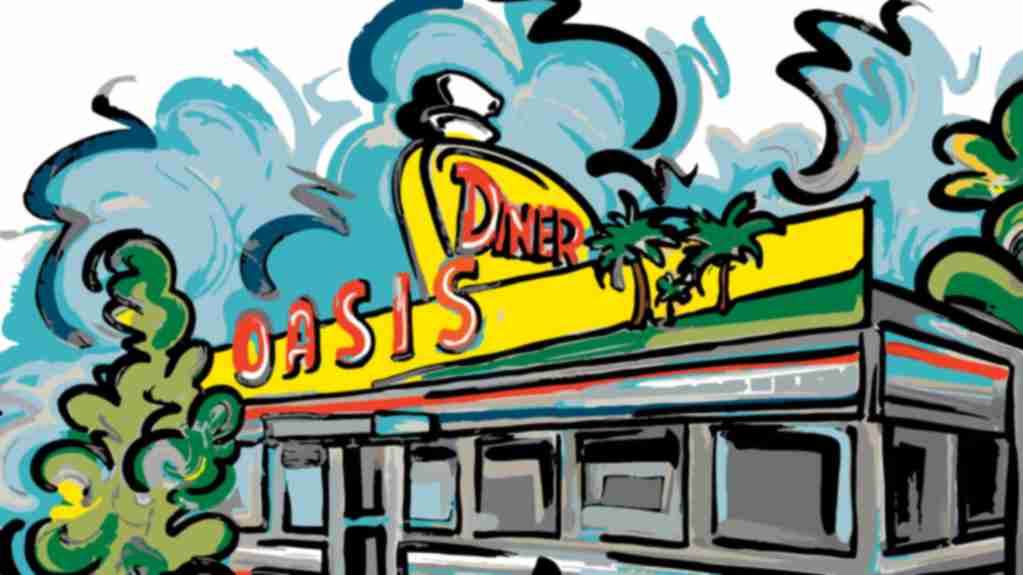 Free Visitor Guide!
Get your insider guide to all things Hendricks County by ordering a FREE Visitor Guide.
What's the Same 
The outside of the restaurant still looks the same, still in the same location, and still with the red overhang that reads Clayton Cafe in big white letters.
The new Clayton Grill & Cafe still provides the same down-home, relaxed and casual environment as its predecessor. Walk in and a server will tell you to sit anywhere, as was the case prior.
Service time is comparable to the previous rendition of the cafe, and you won't leave hungry. I swear, the portion sizes now are even bigger than before.
As a recently-diagnosed diabetic, I've changed my eating habits over the past few months, so I was happy to see a chef salad on the menu. When my order arrived, my jaw hit the floor. The salad was so large that I couldn't finish it!
Just check their Facebook page and you will see all the very generous portion sizes across a wide variety of orders.
And the famous Catfish Fridays? Christian has brought them back! Her experiment with staying open for dinner on Fridays centered around Catfish Fridays, and they have proven popular. 
My Favorites So Far 
Again, I have to watch what I eat now, so my favorites might differ from yours, but I really like the chef salad. As I mentioned earlier, it's a monster, but everything on it I can eat. Got some meat and hard-boiled eggs in there for protein, cheese strips to provide some dairy and lots and lots of vegetables. There are even a few banana peppers in it if you'd like to add some pizzazz to your salad (or they're very easy to pick out if you're not a fan). 
I've also tried the Angry Burrito and loved it. This burrito isn't for the faint of heart. It packs a punch, and it's huge! It's a burrito filled with scrambled eggs, spicy potatoes, chorizo and pepper jack cheese, and it will clear your sinuses! It also comes with a side of hash browns.
As with the chef salad, it was more food than I could finish, but it was really good. 
I have a friend who regularly raves about the breakfast skillets on social media. She even claims there's a skillet named after her, but I can't tell if she's joking or not. At any rate, she loves the skillets.
A friend and coworker who joins me for lunch every day likes to order the Clayton Club sandwich. He gets it with chips, but you can also order it with fries. The sandwich is stacked so high that it's always amusing to watch him try to get his mouth open wide enough to take a bite.
Clayton Grill & Cafe
Make a point of checking out the new Clayton Grill & Cafe! You won't be disappointed!
(317) 539-2139
Open 6 a.m. to 3 p.m., Mondays through Saturdays
Recently open for dinner on Fridays