I wasn't around to experience the '50s, but I've heard my father tell stories about that golden age.
So, when I stepped into the new Corkey's Fabulous 50's on U.S. 36 in Danville, Indiana, it was as if I had become my dad. A life-size replica of Marilyn Monroe greeted me at the front door, and as I entered the diner, I couldn't believe my eyes as every waitress sported those brightly-colored poodle skirts and black and white Oxford Saddle shoes. As I continued to scan this new Hendricks County eatery, I noticed the black and white checkered tile floors, pink and turquoise color scheme and the retro booths, tables and chairs. Yes, this place definitely passed the character test. It had everything a diner from the 1950s should, right down to a fully functional jukebox in the corner.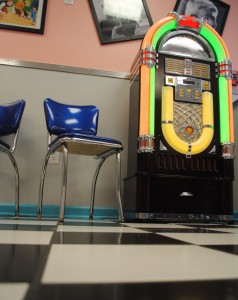 That 's exactly what Corkey's owners, Steve and Dotty Hurt, were going for as they completed their dream restaurant, which had a soft opening Dec. 17. The couple had never been in the restaurant business before. Steve Hurt is a drywaller by trade, so he and his wife did all the work inside to transform the building at 745 E. Main St. into a '50s-style diner, and they refused to cut corners. Arriving for lunch at a restaurant that didn't have a permanent sign yet or even a public announcement of its opening, I was surprised by the crowd. Scanning the menu, I found what I expected: Burgers, tenderloins, hot dogs, Manhattans, fish and chips and salads. As my dad would tell you, ice cream also is a must for a '50s diner, and they didn't disappoint with an assortment of milkshakes, malts, floats and even a sundae bar. Despite the crowds, we didn't have to wait long before our waitress arrived tableside. She announced that her name was Flo, which seemed peculiar until we learned that every waitress in Corkey's Fabulous 50's is named Flo, at least while they're on the clock. That is by design, according to Jami Lydy, Corkey's assistant manager. They want to excel at customer service so by naming each waitress Flo, it's their way of promoting teamwork because Flo's section in the restaurant is every section, she said.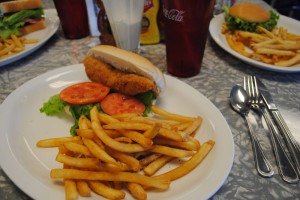 I ordered a club sandwich and fries, which was fresh and delicious. My table mates ordered burgers and the breaded chicken sandwich. No one was disappointed. I later learned, however, that the tenderloins are among their specialties. Each are hand cut and hand breaded. Lydy said her personal favorite is their homemade chicken salad. So, I have at least two reasons to go back. For breakfast, she said customers already have begun raving about their pancakes and biscuits and gravy. While you shouldn't expect a bill from the '50s, the prices were reasonable with everything on the lunch menu under $7. Most of their breakfast offerings are about $5. Corkey's currently is open from 6 a.m. to 4 p.m., but Lydy said they do plan to expand to dinner hours on Fridays, Saturdays and Mondays soon. They also aren't quite done with their décor inside the restaurant. They plan to add televisions that resemble the old black and white TVs with knobs from the '50s and display programming from that era such as "I Love Lucy," Lydy said. "We want people to come in here, have fun, enjoy the food and remember what it was like back then," she said. As far as I'm concerned, they hit the mark. In fact, I'm going to have to bring my dad sometime soon!