It was my first day in Danville, Ind., and boy was I hungry. As a non-local, I waited for an opportune moment to get my
Hendricks County foodie
on. At the first hint of hunger, my co-workers and I decided to venture into downtown for lunch, deciding on a small bistro called Court House Grounds, 65 S. Washington St., on the east side of the Hendricks County Courthouse Square next to The Royal Theater.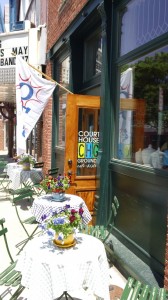 Stepping into the small, street bistro, I was unsure of what was to come. As a lover of commercial restaurants and a frequenter of fast-food chains, I found myself out of place in such a quaint space. Upon entering
Court House Grounds
, my co-workers and I were greeted by a friendly "Hello!" from one of the waiters. I found myself puzzled. Where is the hostess? The bold and colorful menus? The manager in a button-down and tie that wanders over and asks how each person's meal was? This place was bare bones. And bare in a wonderful way. Housed in a building constructed in 1882 by Civil War veteran James Beck, Court House Grounds boasts a stark contrast of exposed brick walls and floral accents. A gorgeous, glass chandelier welcomes customers in the entryway and sets the tone for a unique dining experience. Court House Grounds also does an incredible job combining aged infrastructure with "typical" café food. I felt both extremely comfortable and cozy in the restaurant.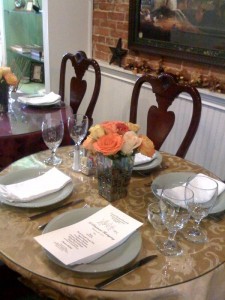 And arguably, the most important part of this bistro experience was waiting to see if Court House Grounds' food matched up to its décor. The menu features amazing sandwiches, soups and a plethora of coffee selections. As a Milwaukee native, I can appreciate anything smothered in cheese. That's why I decided to go out on a limb and try the "Pepper jack Cheese on Rye" – a grilled cheese sandwich stuffed with pepper jack cheese, onions and peppers. Turns out, that explosion of flavor may have been the best decision I made all day. The Pepper jack Cheese wasn't the only thing that appeared delicious on the menu; my co-workers ordered a variety of sandwiches that looked equally mouth-watering. For the full breakfast and lunch menu options, be sure to check out Court House Grounds' online
breakfast
and
lunch
menus. You can get your own Pepper Jack (or any of their other tantalizing options) from 7 a.m. to 3 p.m. Monday–Saturday. Prices range from about $5-$8. I was also amazed to learn that although this was my first time in the bistro, Court House Grounds has been serving residents on the Square in
Hendricks County
since 1998. In fact, they even have a social media presence – boasting an active and well-liked
Facebook page
. 'If this is Hendricks County food,' I asked myself, I may never leave.
Have a favorite dish? Share your favorite and leave a comment!