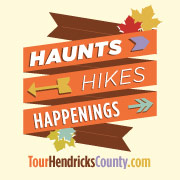 Editor's Note: This is the second of five Crafty Tuesday posts spotlighting some of our great Hendricks County shops and tying in a fall craft idea. In the post below, find out how you can get a discount on a bag of apples at Beasley's Orchard and enter to win a $25 gift certificate. 
"Go out to
Beasley's Orchard
," the
Hendricks County Convention and Visitors Bureau
told me, "and learn about apples for our Crafty Tuesdays series." "No problem," I said. I grew up in Washington State, so I know apples. Or so I thought. That was until I met Debbie Beasley, and I quickly discovered that 
she 
knows apples. I know nothing.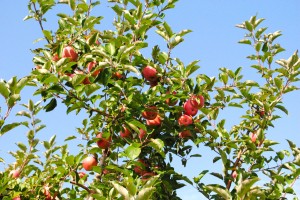 That's probably because the Beasley family, beginning with Debbie's father-in-law, Milton Beasley, has been growing apples in
Danville, Indiana
, since the early 1950s and now boasts 45 acres of apple trees producing
22 different varieties
of the fruit. I had heard there were fewer apples at the orchard this year, and I assumed this summer's drought caused it. Not so, Beasley corrected me. It was a freeze this spring that damaged some of the crops, so not all 22 varieties survived. For the apples that made it through the freeze, though, the drought actually made them 
sweeter
.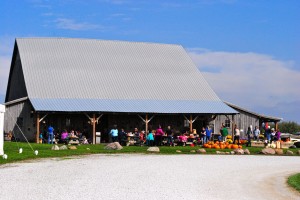 "You Want Me to Do WHAT?!"
I enjoyed my time at Beasley's and afterward, I turned in what I had learned to the folks at the Convention and Visitors Bureau. They immediately handed it back to me. "Oh, you're not done yet," they said with clearly visible smirks on all their faces. "Our Crafty Tuesdays theme this week is about baking an apple pie. We want you to bake a pie with some Beasley's apples. Have fun with that! Oh, and take a picture of it when it's done, too." How on earth was I going to pull this off without burning my house down or poisoning my family?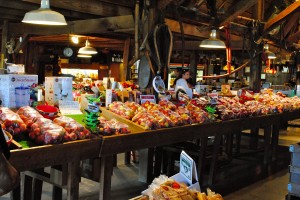 Then it occurred to me: I know an apple expert! Debbie Beasley! Surely she'll help me! And help me, she did. "Jonathan is probably the hands-down all-time favorite for apple pie," Beasley told me. "However, the best pies are usually made from a blend of apples." She recommended using three to five varieties of apples, and her expert opinion was to blend Jonathan, Cortland, and a sweeter apple like Gala or Fuji to get a full range of flavor from spicy to sweet and everything in between. McIntosh and Ida Red are also good for apples that hold their shape when baked. I kept it simple. I picked out some Jonathan, some Cortland, and some Gala apples.
My Apple Pie
Many of the cookbooks at Beasley's Orchard had apple pie recipes that sounded delicious but were clearly out of my league in terms of cooking skills. I needed something so simple that a
guy
could make it. I searched the Internet and eventually came up with
a perfect apple pie recipe
that sounded like something that even I couldn't mess up.
So I carefully cored and peeled and thinly sliced the Beasley's apples, remembering how my mom used to save the peels for me to eat when she made apple pies during my childhood. While my daughters and I munched on the apple peels, I gently mixed all the ingredients together in a bowl and spooned them into the pre-made pie crust. (Don't judge! I was barely able to make the filling, much less tackle making a pie crust!) I threw my concoction into the oven, and a little while later, out came something that loosely resembles an apple pie.
It sure tastes good! Beasley was right on the spot, recommending a blend of apples and pointing me in the right direction of the varieties of apples to select. I couldn't have done it without her! Thank you, Debbie!
Enter to win
If I can do it, anyone can, and we have a $25 gift certificate graciously donated by Beasley's that we will give to someone who does. Head out to Beasley's Orchard and pick out some of their apples. You can get $1 off a half peck bag this week just by printing this article and bringing it to their barn. If pie isn't your thing, you can do an apple tart, homemade applesauce or any type of food that includes apples as an ingredient. If you need some inspiration check out the HCCVB's 
Apple Pie Pinterest board
. After you're done, all you have to do to be entered into the contest is take a photo of your project, submit it to our 
Facebook Page
 and leave a comment with a link to your picture in the comment section below. If you need step-by-step instruction on how to do that, click 
here
. Submissions must be linked in our comment section by noon, next Tuesday, Oct. 9 to qualify. Good luck!