Editor's Note: This is the fourth of five Crafty Tuesday posts spotlighting some of our great Hendricks County shops and tying in a fall craft idea. In the post below, find out how you can win a $25 gift certificate.
I just love fall (must be the teacher in me!) but as the leaves swirl in the wind everywhere I go, it makes me realize that the hustle-bustle connected with winter and the holidays is right around the corner and that creates a little stress for me. Does it for you, too?
Don't be stressed, start felting!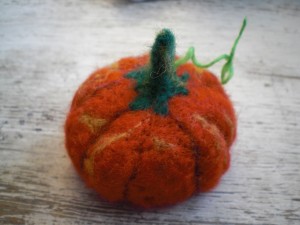 Nomad Yarns in Plainfield, Ind., has the perfect solution for fall-to-winter stress: a felted autumn pumpkin project! Really, just hear me out. There are two ways to felt wool – wet felting and needle felting. Erika and David at Nomad Yarns can teach you how to do either, but the needle felting is perfect for a fall yarn project for people like me who are starting to build up some stress. To needle felt you create a little ball of wool and then push the special barbed (and very sharp) needle into the wool and then pull it out. The repeated action becomes faster and faster with practice and actually interlaces the wool fibers into a felted fabric. If you've not felted wool before, it is pretty amazing – and simple. Anyone at any skill level can be successful with this project. But the release of stress is amazing! You just keep jabbing the needle and then all of a sudden, the pumpkin begins to form. The tightness in your shoulders is gone and you have a lovely fall decoration. Perfect.
Nomad has special kits at a special price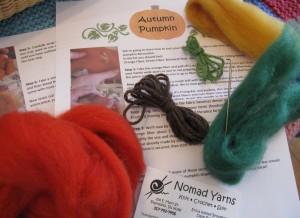 Kits with everything you need including wools, yarns, the needle and a photo tutorial are available at the shop for an unbelievable $10. If you think you'd do better with someone leading you through the instruction, purchase the kit and then attend one of the free hour-long classes offered at the shop at 2 p.m. every day from Tuesday, Oct. 16 through Saturday, Oct. 20. Each class will be limited to 12 people, so it would be best if you
register with Nomad Yarns online
.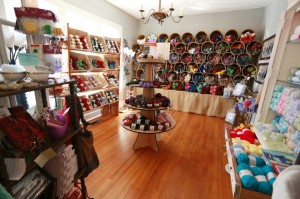 If you go on Saturday, Oct. 20, you'll be just in time for the Halloween Event! The shop will be open until midnight and knitters and felters will be engrossed with their needles in yarn, woolly pumpkins, felted eyeballs and scary stories! Oh, my!
How to win a gift certificate
When you're done with your felted pumpkin, snap a photo of your creation, post it on our
Facebook page
and leave a comment below with a link to your photo in the comment section. If that sounds complicated, it really isn't. You can get step-by-step instructions by clicking
here
. Entries must be linked in our comment section by noon next Tuesday, Oct. 23 to qualify to win a $25 gift certificate from Nomad Yarns. This project is fun, but if you can't make it to the shop for the kit or class, you can still participate in the contest by completing another yarn or felted fall project and complete the steps above to post a picture of it. If you need inspiration, you can find some ideas on our
DIY Yarn & Felt Fall Projects board
on Pinterest. Oh and make sure to check back next week for our final Crafty Tuesdays project, which will focus on the kiddos. Good luck and happy felting!