Editor's Note: This is the last of five Crafty Tuesday posts spotlighting some of our great Hendricks County shops and tying in a fall craft idea. Click here to see all of them. In the post below, find out how you can win a $25 gift certificate.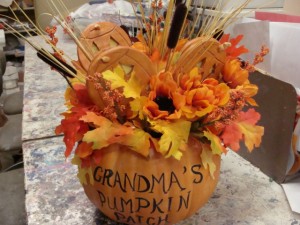 Looking for a craft to do with your kids that will last just as long as the memory of making it? Ceramic and clay are great mediums that will last for years, and there is a shop right here in
Hendricks County
where kids can unleash their creative side. I recently visited Sally Ann's Ceramics in Pittsboro with my 5-year-old daughter. I was 5 when I first painted ceramics, and my mom still has the mug that I painted. In fact, I discovered that I painted that mug at Sally Ann's! When I was first given this assignment, I immediately thought back to my childhood when my mom took me to do ceramics. What a surprise when I realized that Sally's was the same place my mom took me to do ceramics, and now I was taking my daughter there.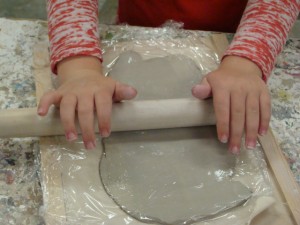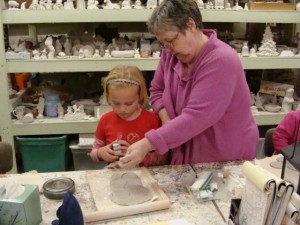 During our visit, my daughter made a clay pumpkin for Halloween. Sally was great. She was patient and gave clear instructions that were easy for my daughter to understand. As my daughter rolled out the clay, Sally taught her where clay comes from. Sally helped her cut a jack-o'-lantern face out of the clay and decorate it. We then left it for a few days, so it could dry and Sally could fire it. We then returned to paint the pumpkin. Of course, my daughter opted for a purple sparkly pumpkin instead of traditional orange.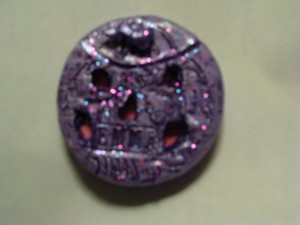 My daughter loved making the pumpkin craft, and I enjoyed watching her. I hope she will remember this experience with me, just like I remember doing ceramics with my mom. Sally would like you to bring your child into her shop to make a ceramic pumpkin. You can stop by from 10 a.m.-3 p.m. or 7-10 p.m., Tuesday, Oct. 23 or from 10 a.m.-3 p.m.,Wednesday, Oct. 24 . Then return on Oct. 27 to paint or glaze your pumpkin. The cost is $6 per pumpkin.
Enter the Crafty Tuesdays contest for a chance to win
Have your child do a craft to win a $25 gift certificate to Sally Ann's. Take your child to Sally's class on either the 23rd or the 24th. Or if you can't make it to Sally's, you can still enter by doing a Halloween craft with your child. Check out our
Pinterest page on Halloween crafts for kids for ideas.
When you're done, take a picture of your item, post it on our Facebook page, and leave a comment here with a link to your photo in the comment section. (You can find step-by-step instructions
here
.) Entries must be linked in our comment section by noon next Tuesday, Oct. 30 to qualify.
Sally Ann's Ceramics
266 N. Maple Street Pittsboro, Indiana 317-892-4091 www.sallysuiter.com