You can't see me as you read this, but I'm wearing two hats right now. One hat is that of a Visit Hendricks County blogger. The other hat is that of the Assistant Superintendent of Hendricks County Parks & Recreation -- the agency that is bringing a brand-new park to Hendricks County, Indiana!
Construction of Phase I of W.S. Gibbs Memorial Park in Avon is scheduled to begin in early June. Here's everything you need to know:
History
A little over 10 years ago, we purchased about 140 acres of predominantly farmland from the Gibbs family, dividing the purchase price up into 10 annual payments. At the time of purchase, the land was in an unincorporated portion of Hendricks County, which is how our department had the opportunity to acquire the land.
We made our final payment to the Gibbs family in January 2019, and as fortune would have it, we got ourselves a new superintendent a month later.
Ryan Lemley, who came to us from Raccoon Lake State Recreation Area, made W.S. Gibbs Memorial Park his No. 1 priority as superintendent. Our department has worked on this project with the proverbial pedal to the metal ever since.
Location
While acquiring the property, the Town of Avon annexed the area. So when the park opens, it will be within Avon town limits.
Normally, Avon Parks & Recreation or Washington Township Parks & Recreation would operate a park in this area of the county, but given these unique circumstances, our department -- Hendricks County Parks & Recreation -- will build and operate W.S. Gibbs Memorial Park.
So where will the park be located?
It's on Gibbs Road in Avon, between County Road 200 South and County Road 350 South. Because there are no structures on the property yet, we do not have an official address, but Google Maps properly locates it using 4541 Gibbs Road.
First Phase
We're developing about half of the 140 acres in Phase I. All of Phase I will be contained within the eastern half of the property.
We plan to have Phase I serve as the building block for future development. It will encompass all the roadways, parking lots, drainage and a large 5½-acre fishing pond.
Our Park Board and staff continue to design and implement the following amenities in-house: approximately 2.1 miles of trails, picnic areas, an 18-hole disc golf course surrounded by a variety of native grasses and a nature-themed playground.
Hendricks County Parks & Recreation specializes in nature parks (we also operate McCloud Nature Park and the western portion of the Vandalia Trail), so people who visit the park will be able to enjoy forested areas, prairie, wildlife and green space, too.
Park Transformation
As soon as the spring of 2019 arrived, our maintenance crew got to work clearing out dead, undesirable and non-native invasive trees and brush across roughly 20 acres of the property that's being developed in Phase I.
It's easier to tell the story in pictures.
Here's a typical area of trees and brush that we had as a starting point.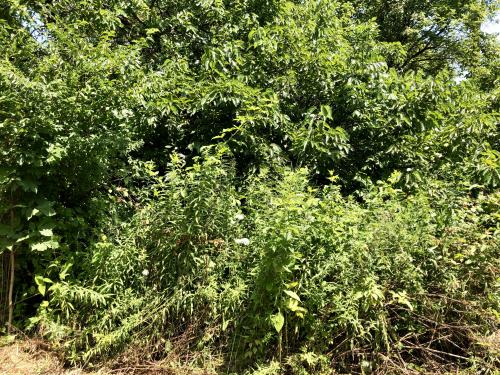 As you can see, it's not very conducive to a park atmosphere. Our naturalists will explain the importance of native plants and trees over those of the non-native invasive kind when they start hosting programs at W.S. Gibbs Memorial Park, but suffice it to say, it's very important to have healthy native plants and trees for a number of reasons.
There were also a number of dead trees in those 20 acres which, in addition to being unsightly, pose a serious danger. So those had to come down, too.
And then there were the undesirable trees. What makes a tree undesirable? Take this locust tree for instance.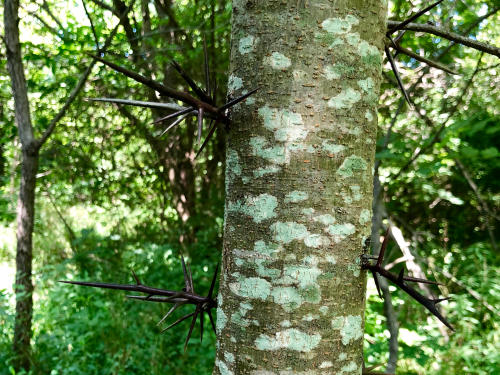 See the thorns on the trunk? They are about 3 or 4 inches long, and they're so tough and sharp that they can easily puncture a truck tire. Imagine what they could do to human or canine skin.
We definitely needed those trees removed since they are not good for a park setting where children will be running around and playing, and people will be walking their leashed dogs.
So our maintenance crew used a machine called a forestry mulcher to clear the underbrush and some of the smaller trees that we wanted removed.
Basically, the teeth at the front of the apparatus spin quickly and in the blink of an eye, they pulverize anything and everything in their path. It's really quite a sight to behold.
Then our crew went through with chainsaws and took down the larger trees that were too big for the forestry mulcher.
Remember what we started with? Here's that same piece of land a few days later.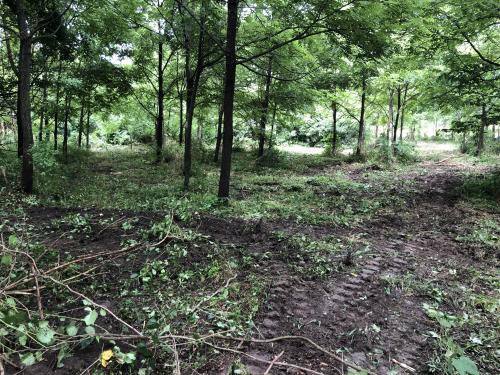 Now it's starting to look like an inviting area for a park! It's much easier to envision picnic areas and trails here now, isn't it?
A year later, our maintenance crew continues cleaning up the 20 acres of forested land, and they're a little over halfway done.
In early June of this year, we'll welcome the arrival of "the big guns" to the property. A contracted construction company will bring in heavy machinery and break ground on the entrance, roads, parking lots and pond. We anticipate that construction lasting through the remainder of 2020.
Simultaneously, our maintenance crew will continue clearing trees and brush, plus they'll construct trails and the disc golf course for Phase I.
When Will It Open?
Assuming all goes well and we don't have any unforeseen nutty weather this summer or fall, we anticipate opening the park to the public in 2021. Our maintenance crew will continue adding amenities as time and funding allows, even after the park is opened, so visit often to see what progress we have made!
"Our ultimate goal is to expand and provide unique and enjoyable recreational experiences for everyone, and that goal would not be attainable without the constant support of our patrons, the Hendricks County Commissioners and the Hendricks County Council," said Lemley. "We look forward to seeing you and your family and friends at W.S. Gibbs Memorial Park in 2021."
W.S. Gibbs Memorial Park
Phase I construction scheduled to begin in June of 2020
Anticipated opening of Phase I to the public in 2021