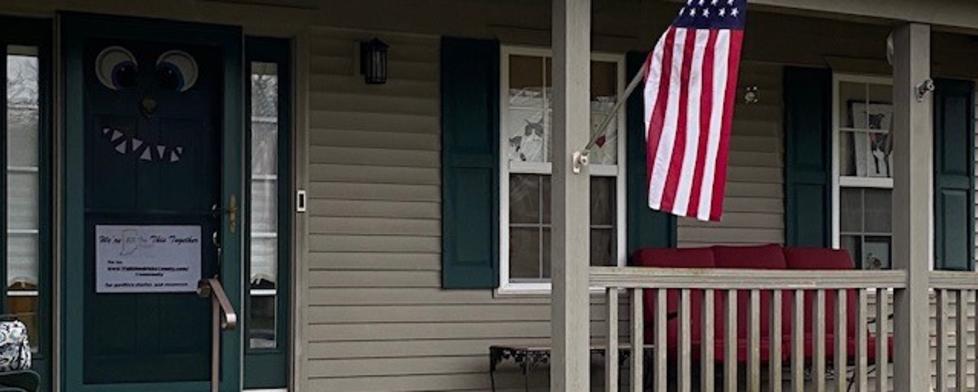 These are trying times for everyone. So, I thought it was great when our office decided to be the source of good news and create a link on our website with positive stories as well as resources to help people get through these crazy times.
I love seeing what people are doing to create their own ways to keep connected without actual contact.  I saw one friend whose family had their own Cake Wars, where each member of the six-person family made and decorated a cake or cupcakes. She posted their masterpieces on Facebook and asked friends to vote on the best decoration.
Our family has played board games which has been nice since it's been a long time since we've done that now that our kids are older.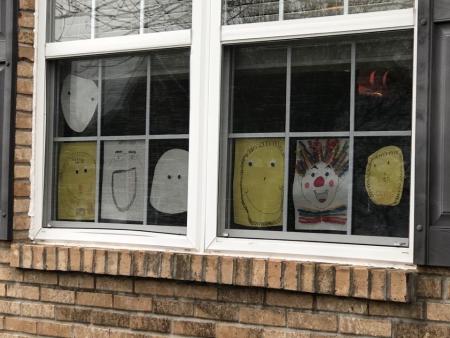 But the coolest idea came when I was tagged on Facebook to participate in a Neighborhood Window Walk. We were asked to put a certain type of drawing in the window with themed days so that when people are out walking, they have something new to look at. 
This idea was probably invented by someone with young children to give them something to do, but I thought it would still be fun to participate. So, I asked my artistic teenage daughter to help.
The first day was supposed to be a silly face, so she decided to create a silly face for the door. However, when we walked through the neighborhood, most people had smaller drawings in the windows. It was great to see all the creativity!
The next day's theme featured animals. That was easy for us since my daughter had already painted all our animals - plus a bonus painting of 'Squirt' from Finding Nemo.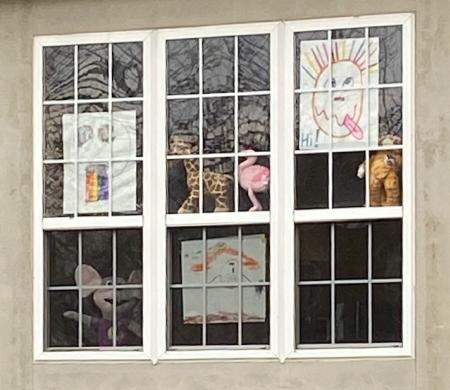 Some neighbors down the street had stuffed animals in their window and others drew animals with chalk on the driveway. I've even seen other versions of this window activity on Facebook using stuffed animals, particularly bears.
The last day before writing this blog, the theme focused on encouraging words, so I decided to print off the information about our website since it provides encouragement on a regular basis. 
Again, on my walk around the neighborhood, I saw words of encouragement written in chalk – one of my favorite driveways had Smile & Don't Worry, Be Happy' written on it.
There are several other ideas I've seen - Brightly Art Studio in Brownsburg posted this:  
Let's flood this post with our joyful banners! 🌈 We CANNOT wait to see what you came up with. 💗 If you see one around town snap a pic & share.  Check out our live #brightlyathome workshop video & join us! It's never too late to spread joy to our neighbors.

Other ideas I've seen for windows include printing off Easter eggs and decorating them so people can go on a window 'Easter Egg Hunt', decorating paper hearts to show appreciation for medical personnel and rainbows for Riley Kids.
Hendricks Regional Health has even started a Hearts program to show healthcare workers how much we deeply appreciate their relentless dedication to keeping our community safe and healthy. They are asking residents to show support by downloading a coloring page or decorating construction paper hearts with messages of appreciation. Click on the Hearts program link above to learn more.
What are ways you are keeping connected with your neighbors? Why not start something today in your neighborhood? 
We'd love to hear about it! Let us know by tagging "Visit Hendricks County" on Facebook, using the #inHendricks hashtag on Facebook or Twitter or by commenting below.