Indiana is known as the crossroads of America, and where two roads meet, businesses are sure to be found. Hendricks County has many great crossroads with local gems, and in this
Crossroads-Series
post, I'll give you a tour of some of the local shops and restaurants you can find at the intersection of Main Street (Ind. 136) and Green Street (Ind. 267) in downtown Brownsburg, Indiana. Use this map to help you navigate: [cetsEmbedGmap src=https://maps.google.com/maps/ms?msid=216178408200957353621.0004e16a20770f1d37ee5&msa=0 width=350 height=425 marginwidth=0 marginheight=0 frameborder=0 scrolling=no]  
Nelson Jewelers
:
This local jeweler specializes in high-quality diamonds, gemstones, and custom design. Founded by Philip Nelson in 1958, the business today is owned by his son, Jeff, whose wife, Ginger, also serves customers at the store.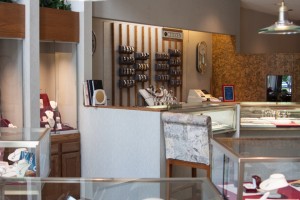 All jewelry work at Nelson's is done in-house in their second-floor shop — not even repairs are sent out. Julie Rust is the Jeweler's designer, and she loves designing custom pieces for customers. She designs everything from new engagement rings (often for third-generation customers whose grandparents bought their own engagement rings at Nelson's) to refreshed and updated family heirlooms.
A Stone's Throw Restaurant & Bar
:
Nestled in the historic downtown (in a 110+ year-old building, no less) is A Stone's Throw. Our own Elaine visited just after it opened in 2012, and
she had a great experience
. If you're looking for a place to unwind after a long day at work and enjoy a beautiful summer evening, you can relax and have dinner on the outdoor patio. Then stick around for a local music act, because A Stone's Throw regularly features local musicians.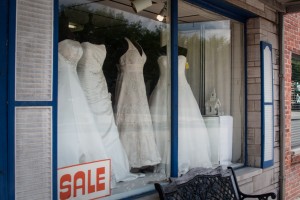 Bare Necessities Bridal:
Have a formal event coming up, like a wedding, pageant, or big evening out on the town? Stop by Bare Necessities Bridal. This shop is packed to the gills with gorgeous wedding gowns and formal dresses. Owner Phyllis Kays started Bare Necessities 26 years ago, and she makes affordability one of the key benefits for customers. You'll find both new and nearly new dresses in the store, and all consignment dresses are professionally cleaned before they're displayed. Wedding gowns, homecoming dresses, pageant attire, cocktail dresses, veils, tiaras, shoes… you'll feel like a queen!
Total Recall Antiques:
Hendricks County has several great antique shops, and Total Recall Antiques fits the bill. The owners have been in business for more than 30 years, so they really know what to look for. You'll find china, glassware, furniture and many other collectibles.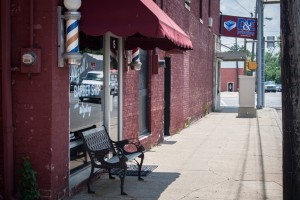 Mizell's Barber Shop:
Gentlemen, while your female half is shopping the finery at this intersection, feel free to step around the corner to Mizell's Barber Shop for some pampering of your own. My own father has been going to Mizell's for more than 25 years, and he always comes home looking great.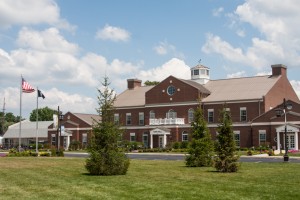 Brownsburg Town Hall:
Wondering what time to plan your visit? I recommend a Thursday evening between 4:30 and 7:30 p.m., because that's when you'll find fresh produce and goods at the
Brownsburg Farmer's Market
at the Town Hall. At other times, you'll find fun and free community events on the Town Hall's front lawn.
Have a recommendation for a great intersection and businesses in Hendricks County? Leave your tip in the comments below.