I've got to tell you that I love Mexican food. I always have tortilla chips, avocados, salsa and plenty of hot sauce at home. I heard that a new Mexican restaurant opened in
Hendricks County
, so of course I had to try it out. It's called Pico de Gallo Mexican Grill and it's located on Green Street just north of I-74 in
Brownsburg
. I think this wonderful spring weather is the perfect opportunity to enjoy fresh Mexican food.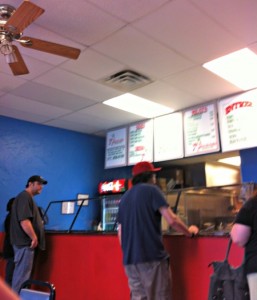 Pico de Gallo Mexican Grill is a casual eatery located in a strip center across from Applebees. A few friends and I decided to stop there for a last-minute weekend lunch. We walked in and were warmly greeted, and told everything is ordered at the counter, where you choose what you'd like (entrees include: burritos, nachos, tacos, or taco salad) and pick your toppings (include: carnitas (pork), chicken, ground beef, steak) and sides (chips and salsa, queso and guacamole). If you are familiar with the Qdoba chain, Pico de Gallo's setup is similar.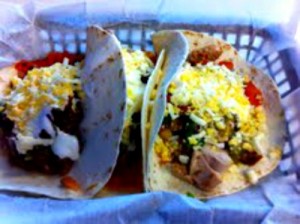 We decided to order a bunch of tacos and split them, along with a basket of chips, guacamole and corn salsa. It was fun to stand at the counter while we customized our tacos, with a variety of toppings, like cheese, sour cream and pico de gallo. There is a vegetarian option (grilled veggies) available for those who don't eat meat.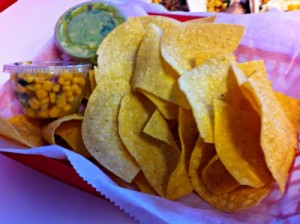 We ordered our soft drinks and took our food to the booth where we sat down and enjoyed our baskets of tacos and chips and guacamole and corn salsa. After leaving Pico de Gallo, we stopped at
Stout Shoes
(just a few doors down) to check out their collection of sandals and summer shoes. We're looking forward to going back to Pico de Gallo to try their nachos and burritos as it is a great option when you're looking for fast and inexpensive Mexican food in
Hendricks County
.
Get there: Pico de Gallo Mexican Grill, 1430 N. Green St., Suite I, Brownsburg. Phone, (317) 858-8189.
What we enjoyed: Steak and carnitas tacos topped with lettuce, cheese, pico de gallo and sour cream, warm chips with corn salsa and guacamole.
On the menu: Nachos, 3 tacos, burritos, taco salad, chips and salsa, guacamole.
Atmosphere: Very casual atmosphere, order your customized meal and pick up and pay at the counter.
Prices: Inexpensive, with the highest meal at $6.99, Our meal of tacos, chips, corn salsa, guacamole, and soft drinks was around $20.
Family-friendly: Yes, kids will especially love ordering at the counter and customizing their meal.
Easy to find: Yes, it's conveniently located off Green Street and very close to I-74 with plenty of shopping around in Brownsburg and a short drive from Indy.
What's one of your favorite Mexican restaurants in Hendricks County? Leave us a note in the comments so we can check it out!