Editor's Note: Unfortunately, Cutters Brewing Company has ceased operation since this story was first published. 
As we all search for the perfect Christmas gifts for everyone in our lives, I have discovered yet another reason to visit Hendricks County:  Cutters Brewing Company in Avon, Ind.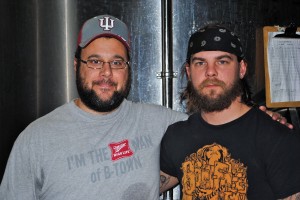 Cutters is a relatively small operation run by friends and family members that started out as a nano-brewery in Bloomington, Ind., in 2010 and moved to Avon in November of 2012. Given the limestone quarries that surround Bloomington, co-owners Monte Speicher and Chris Inman named their beer in honor of the hard-working limestone cutters there. As one might expect when a brewery makes excellent beer, the demand for Cutters quickly went through the roof, prompting the guys to move their operation to Avon where they could spread their wings and supply frosty malted beverages to hard-working people all across the Midwest. Cutters can currently be found throughout Indiana, Illinois and Ohio, and Speicher said that folks in Michigan will have access to their tasty suds in the near future.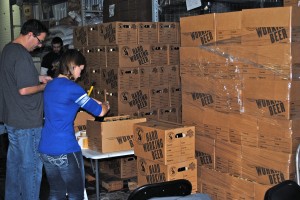 I didn't even know Cutters brewery existed until I helped with a Visit Hendricks County group tour recently where it was one of our stops. Cutters is tucked back on the south side of U.S. 36, just west of the Target shopping center. As the tour bus pulled in and I realized where we were stopping, my eyes lit up like a Christmas tree. Best. Tour. Ever! I got to meet Speicher and the head brewer, Dustin Brown, while we were there. They walked us through the warehouse where their magic nectar of the gods is made, explaining what goes on in each of the huge stainless steel brew kettles during each step of the brewing process. Then we got to taste several varieties of Cutters beer. They offer five varieties year-round:  Empire Imperial Stout, Lost River Blonde Ale, Floyd's Folly Scottish Ale, Half Court Pale Ale and Monon Wheat. They also offer seasonal beers such as General Brown Sour and Pumpkin Porter.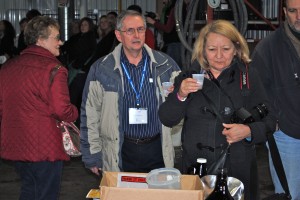 I'm a light beer guy, so my first sample was the Monon Wheat. After one sip, my tastebuds went wild in celebration, my brain lighting up like a New Year's Eve party, complete with confetti and noise-makers. It's light, it's crisp, it's refreshing, it's outstanding. Next up was the General Brown Sour. I gave Monte the raised-eyebrow treatment when he offered me sour beer, but it was also free beer, so I decided that there are worse fates in life and I tried it. I have never experienced anything like it. You definitely get a kick of sour, but right about the time you want to scrunch your nose up, the flavor turns smooth and full-bodied. It's hard to explain. You'll have to try some and see for yourself. I liked it! Floyd's Folly is another good one, although darker than I generally prefer. Watch yourself with Floyd's Folly, though. Its 8% APV will knock you on your backside if you're used to drinking mass-produced light beer!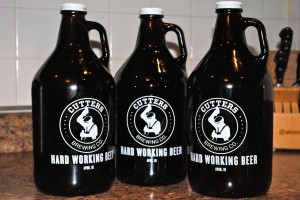 I bet my dad, who prefers dark beer, would love Floyd's Folly. He'd also probably like Empire Imperial Stout, which looks like a black-and-tan beer.  I opted for a 64-ounce growler of Monon Wheat, though, and shared it with a friend. "Where did you get this?!" he exclaimed after his first sip.  "And how can I get some?!" I could see the New Year's Eve party going off in his brain, too, and that growler was gone in no time. Cutters is primarily a brewery and distributor, but they do offer carryout of six-packs, growlers and kegs. They offer free tours of their facility -- they just ask that you call first -- and free samples. And get this:  They are open on Sundays! Oh yes! I know where I'll be on those frequent occasions when I'm out of beer for football! So if you're looking for unique Christmas gifts for the hard-working beer lovers in your life, visit Hendricks County and put some Cutters Brewing Company beer under the tree. Cutters Brewing Company