Like many
Hendricks County
parents, I love youth sports. Beyond the physical benefits to kids of staying active, there are valuable life lessons to be taught through youth sports. Plus, they can be valuable to tourism drawing teams from out of town, out of the county and even from out of state, who stay in
Hendricks County hotels
, eat at
local restaurants
and
shop
, visit or participate in other
activities
when their team isn't playing.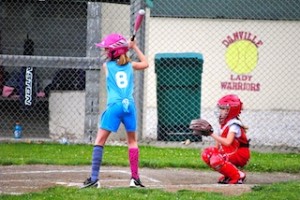 I have two daughters, both of whom have played T-ball in the past, and one of my daughters took to the sport like a fish to water. (The other one took to it like a fish to a bicycle, so she now plays soccer.) It was natural, then, for us to gravitate to the
Danville Girls Softball Association
(DGSA).  It has been a fantastic experience. As such, I'm really excited about two upcoming events hosted by the DGSA:  The 10U Westside tournament and the Sunburn Tournament.
10U Westside Tournament
From June 11-21, a total of 25 softball teams made up of 9- and 10-year-olds will converge on the DGSA softball diamonds for a double-elimination fast-pitch tournament. Teams participating in the tournament will be from
Avon
, Ben Davis,
Danville
,
Plainfield
, Speedway and Tri-West. Over the course of up to 49 games, the field of 25 teams will gradually be whittled down to one champion to be crowned on the evening of June 21.
Sunburn Tournament
The DGSA also will host the double-elimination Sunburn Tournament from August 3-5. This tournament is open to 8U, 10U, 12U, 14U, B and C travel teams, and recreational league All-Star teams. DGSA president Jason Jones says that teams travel from surprising distances to compete in this event. "In 2011, the Sunburn Tournament had 38 teams from all over Indiana and East Central Illinois," said Jones. "Our league has been hosting this tournament for over a decade, and many teams throughout the area make our tournament an annual event for them. These teams like our facility, our community, and the amenities we have in the surrounding area. This is usually the final end-of-year tournament for most teams, and we are happy that they spend their time in Danville with us."
The Facility
These two tournaments will take place at the Twin Bridges Fields, located just west of the intersection of County Road 150 East and County Road 200 South in Hendricks County. Up to five softball diamonds are in use there at any given time.
Thanks to corporate sponsorships and hundreds of hours donated by community volunteers, the fields have gotten a major facelift.  A wide variety of food and beverages are available at the newly remodeled concessions stand at quite reasonable prices. More information about the 10U Westside Tournament and the Sunburn Tournament, including a list of Hendricks County hotels, eating establishments, and attractions for out-of-town guests can be found at
DGSA website
. The DGSA can also be found on
Facebook
.
Tips for Parents and Spectators
From my personal experience, there are some items that parents, fans and visitors will want to bring with them to the softball diamonds.
Protection from the sun. Sunscreen, hats and whatever other protection from the sun that you use is essential.
Folding chair. There are a handful of bleachers there, but folding chairs are much more comfortable.
Bug spray. The diamonds are surrounded by woods, and we had a very mild winter, so spray yourself before you become a bug buffet.