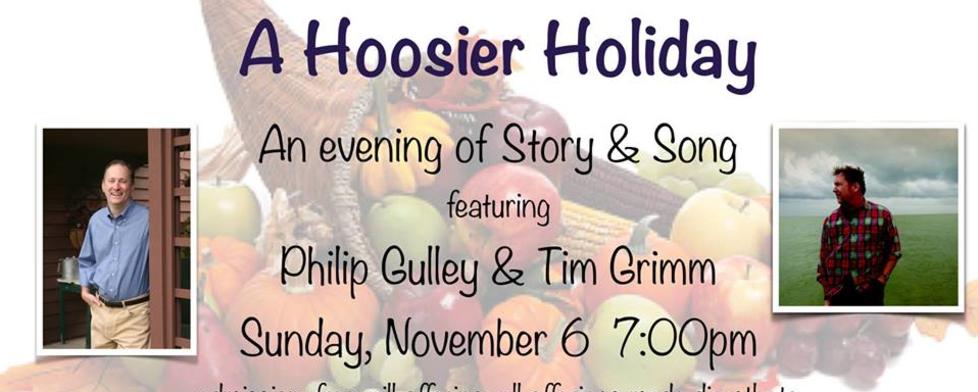 Sometimes the best evenings are spent soaking up the unique entertainment offered in a small town. These towns are often home to big talent, big hearts and the best opportunities to enjoy a night out. Folks will find such an opportunity this weekend in Hendricks County when Danville's popular cafe and bakery, The Bread Basket, gives back to the community with A Hoosier Holiday. 
A Hoosier Holiday will be an evening of story and song with local author Philip Gulley and singer/songwriter Tim Grimm this Sunday, Nov. 6 at The Royal Theater in Danville. This first-ever community event is free, but 100% of a freewill donation will support the local Sheltering Wings Center for Women. Doors open at 6:30 p.m., with entertainment beginning at 7 p.m. Seating is limited.
I spoke with Judy Sexton from The Bread Basket and couldn't help but feel so much pride as she explained how this event came to be. She started planning the appreciation and holiday party she hosts for her staff every year, and came up with this idea. The Royal Theater seats a lot more than her staff would need, so she decided to invite the community to enjoy the evening along with them. How awesome?
Judy knew that she wouldn't want to charge admission, but thought it would be a great opportunity to raise donations for a local organization that is dear to her heart. A community event, at a community venue, with art and entertainment provided by a community member with donations and support provided to a community organization. This is the stuff that makes small towns and Hendricks County so great.
I know that some of you see the words The Bread Basket, and you're already thinking of the menu and struggling to decide what to order, but you'll have to visit the cafe during business hours.
Since this community event is also part of The Bread Basket's staff appreciation and holiday party, they're all off the clock and will not serve the delicious food they have become known for.
But don't fret, concessions at The Royal will be available for purchase and you can indecisively pour over the menu at The Bread Basket another day.
I hope you'll all come out to enjoy this evening of entertainment and celebrate with our community.