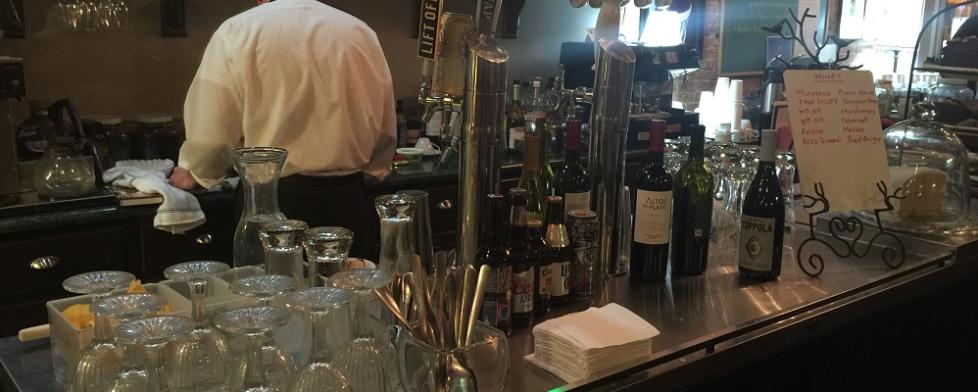 Local favorite, Court House Grounds -- a coffee shop, bistro, and tea room -- recently made some updates and additions that are sure to please their loyal customers and attract many new ones.
Owners Bill Franklin and Tracy Jones have proven that their business is far more than a coffee house or average eatery since opening their doors in 1998. For almost 18 years, Court House Grounds has provided patrons with a place where they can be a "regular" and go to get a quality, home-cooked meal.
Now, they're adding dinner, drinks and a unique lounge atmosphere for guests to enjoy during after hours on Friday and Saturday nights.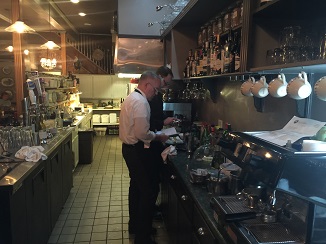 Located at 65 S. Washington St., Danville, in an 1882 building on the courthouse square, it isn't surprising that Court House Grounds offers a distinctive historic charm. 
My husband and I stopped in on a Friday night a few weeks ago to check out the renovations and enjoy the new after hours happenings.
They recently closed for a week to make the improvements - fresh paint, new lighting, a new bar and lots of rearranging - in preparation for their additional hours and menu. 
Here's what you'll find when you stop in... 
After Hours at Courthouse Grounds
You can now enjoy the atmosphere and their always impressive menu on Friday and Saturday nights from 5-10 p.m. as the coffee shop, bistro, and tea room transforms into a relaxing lounge with a whole new selection of food and drinks to choose from. 
That's right, one of your local favorites, just got better.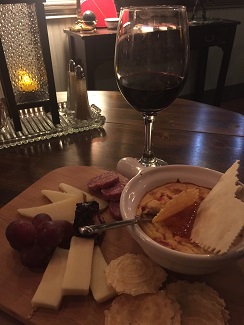 We spent a little over an hour taking in the scene, grazing a delicious cheese plate and sipping a glass of wine.
Our cheese plate included a luscious bunch of grapes, various sliced cheeses, crackers and sausage. This may not sound too impressive, but believe me, it was. It also included a warm goat cheese with red pepper and apricot chutney, which was so good.
We pushed around this small purplish cheese for awhile before asking our waiter, Luke, what it was. We saved the best for last. It was a sweet, soft cheese, rolled in blueberries and was amazing!
Luke explained that the cheese platter is a great go-to appetizer that they change up a little each night. 
The same is true of their dinner special. When we were in, the special was their popular Prime Rib dinner. They have also offered a Cod dinner special since the addition. You can call (317) 989-1600 to find out what the current specials are.
Regardless, I'm certain you'll find plenty of options on the tapas and appetizers menu that suit your pallet. We plan to try the meatballs and bruschetta on our next visit.
The blueberry cheese from our appetizer didn't count as an actual dessert, right? So, we also ordered a slice of jamocha cake to split. Best decision, except the sharing part.
Bill told us they are so pleased with the turnout so far and that the only thing he wants folks to know is that they aren't a bar. What they envisioned, and have now created, is a relaxing lounge where folks can gather with friends or enjoy a date night.
He also told us that they've enjoyed learning how to make the perfect cocktails. You should definitely check out Court House Grounds Facebook page for updates, specials and to catch all the awesome videos that Bill posts. 
They had to rearrange the layout to make room for their new kegerator bar - that's good news for beer drinkers, as they'll find quite the selection. They also have a great wine list and cocktails - including Moscow Mules. Yum. 
I really appreciated how much detail was paid to each drink and dish that passed by us on its way to guests. Everything looked beautiful.  
Spread the word and head over to Court House Grounds' after hours on Friday or Saturday night for a great place to unwind with good company over drinks and delicious food.
For those looking for breakfast and lunch, or regulars of Court House Grounds, there's no need to fret. Court House Grounds is still open for their regular hours and serving up all your favorites. 
Breakfast and Lunch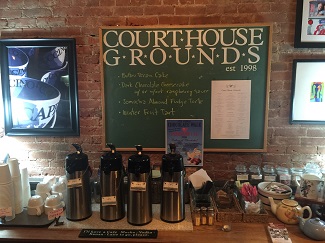 Bill and Tracy will still - somehow - be up and ready, bright and early to serve up all your favorite breakfast and lunch dishes, coffees and teas.
Daily breakfast and lunch hours are: Monday-Friday 7 a.m. - 2 p.m., Saturday 8 a.m. - 1 p.m. and closed Sundays.
The breakfast menu includes delicious homemade breads and pastries, oatmeal, waffles, pancakes, breakfast sandwiches, homemade quiche and a wide assortment of beverages.
Court House Grounds uses local, farm fresh eggs and qualities ingredients - a difference you can truly taste.
Lunch favorites include their Reuben sandwich, salads, burgers, chicken or egg salad and of course, the homemade soup of the day. 
Order the Chicken Tortilla soup when it's on the menu. You won't regret it.