We're in the twilight of 2019 as December arrives in Hendricks County, Indiana, and the 12th month of the year brings with it all sorts of things to do with the entire family. We have oodles of holiday events, beautiful holiday light displays, a unique shopping opportunity, some skating, a symphony, ABA basketball games and a candlelit tour of a museum on tap this month.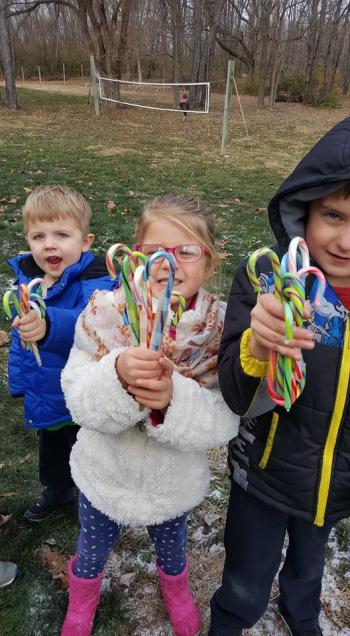 Enjoy a Top 10 Holiday Event
We have all sorts of holiday events on tap this month, and the weekend of Dec. 7-8 in particular is packed full of family fun. Some of our Top 10 holiday events include:
To learn more about these Top 10 holiday events in Hendricks County, click here.
Admire a Top 10 Holiday Light Display
We've got several awesome holiday light displays throughout Hendricks County, including the mother of all displays in our area: Winterland Holiday Light Show at Ellis Park in Danville.
I've put together a list of the Top 10 holiday light displays in Hendricks County, including a map that will lead you to all of them in a relatively efficient manner.
In addition to those 10 displays, I've recently learned that after a brief hiatus, the popular Lights on Lancaster display is back, scheduled to open on Dec. 7! This is a private residence located at 7188 Lancaster Lane in Avon that has a display consisting of more than 10,000 lights that are synchronized to music that you can listen to on your car stereo.
Families can get on their website, vote for a particular song, and push it up a list to play next! Enjoying Lights on Lancaster is absolutely free.
On my Top 10 list, Lights on Lancaster would best be placed between #2 The Shops at Perry Crossing and #3 Washington Township Park for driving efficiency.
Jingle Bells Shop at Who North America
Who here likes Who? Not the Whos down in Whoville or the rock band The Who. I mean Doctor Who!
Who North America in Camby is hosting its first-ever Jingle Bells Shop on Saturday, Dec. 7 from 11 a.m. to 5 p.m. This is a great event to get last-minute, unique Doctor Who items for Christmas gifts.
The Jingle Bells Shop will feature authors Mackenzie Flohr and James Wylder, comics creator Patrick Handlon and all sorts of vendors specializing in Doctor Who posters, crafts, toys and more.
At the same time, Who North America will host the DIY Pit Stop game led by Dave Ginn and his family. Dave will also be showcasing some balloon twisting.
For more information, click here.
'Ice' Skate at Penguin Park
A brand new attraction in Hendricks County is Penguin Park located within Washington Township Park in Avon. It's open through Feb. 14 with open skating offered on Fridays, Saturdays and Sundays, plus special events on Tuesdays and Thursdays.
This outdoor ice-less skating rink provides a fun ice skating experience for the whole group, regardless of the weather. In addition to skating, Penguin Park will feature Market Saturdays in December from 4 to 8 p.m., festive food and drinks, a Santa's Village, family programs, craft vendors and more.
(Insider tip: Got a loved one with a winter birthday? How about a birthday party at Penguin Park inside a heated igloo that's available to rent!)
For more information about this new attraction in Hendricks County, click here.
Indiana Lyons Games
We have an American Basketball Association (ABA) team right here in Hendricks County, and they're darn good! The Indiana Lyons play their home games at Bosstick Gym, 49 N. Wayne Street in Danville, and they have a bunch of home games in December.
For just $10 a person, you can bring the entire family to see this fan-friendly team play a fast-paced, high-scoring game of basketball against teams from all over the nation.
Fresh off a thrilling victory over the previously unbeaten and #3-ranked team in the ABA, the #15-ranked Lyons are now 7-2 on the young season and enjoy a whole slew of home games this month, making it the perfect time to check them out.
They'll play at home on Dec. 7, 8, 14, 15, 21, and 22. Most games tip off at 5 p.m. with the doors opening at 4 p.m. For their complete schedule, click here.
To learn more about what to expect at an Indiana Lyons game, click here. And then come to a game and see them for yourself!
Listen to the Sounds of the Season
Did you know that we have a symphony here in Hendricks County? The Hendricks Symphony offers two opportunities in December to infuse your soul with some holiday music:
Both concerts are being held at Calvary United Methodist Church in Brownsburg. For more information, including how to purchase tickets, click here.
Candlelight Tour of a Museum
I've been to the Hendricks County Historical Museum in Danville, and toured the old jail cells plus all of the cool exhibits throughout the entire museum.
I've never experienced it by candlelight, though, but it sounds fun! On Saturday, Dec. 14 from 5:30 to 7:30 p.m., the first-ever Hendricks County Historical Museum Candlelight Tour will take place! 
Carolers will greet you as you enter the museum. Once inside, actors representing the time period in each of the rooms will engage with you in stories of their lives in the late 1800s. Inside, you can warm yourself with warm cider and cookies. The Museum would appreciate a $10 donation per family or group.
More December Events
This isn't anywhere close to an all-inclusive list of December happenings in Hendricks County. To find even more opportunities for family fun this month, be sure to peruse our Events Calendar.