My experience with golf goes back to when I was a kid. My dad is a golfer. Anytime I went with him, it was mainly so he would let me drive the cart. He usually gave me a can of pop and a bag of chips too, probably in hopes I would just sit quietly and leave him be so he could golf.
Well, step aside, traditional golf. There's a new kid in town, and it's Fling Golf. If you've never heard of it, it's a less technical form of golf that's very reminiscent of Happy Gilmore but without the rage.
Last week, my husband and I drove out to Deer Creek Golf Club in Clayton, Indiana, to try fling golfing for the first time. I asked a staff member how it worked, expecting a lesson in the technical way to hold the club or the right way to fling the ball.
The staff was extremely informative and friendly. Turns out Fling Golf is pretty self-explanatory. The only tool you need is a club with a small basket on the end to hold the golf ball, a little bit like a lacrosse stick.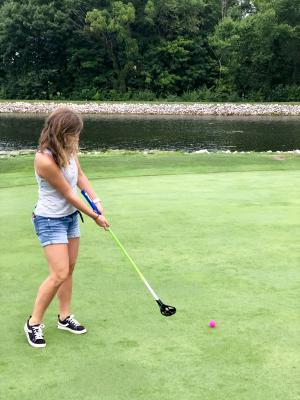 You literally just fling the ball whichever way feels right to you and allows you to cover the most ground. Some fling overhand. Some fling sideways. When you get close to the hole, you use the same club as a putter, but more serious golfers may want to use an actual putter.

So to boil it down to basics:

Step 1: Find your tee. Step 2: Put the ball in the basket on the end of your club. Step 3: Fling said ball in whatever manner you wish. Step 4: Find your ball. Repeat step 3. Step 5: Once you're on the putting green, putt the ball in the hole.  

Now that you know how to play, I have three good reasons you need to try Fling Golf:
It's easy. Seriously, this isn't like, Hold the club like this and Put your hands like this. No. You take the club, and you fling the ball.
It's family-friendly. Kids can come along, and actually play this game! It's a fantastic way to enjoy golf as a family, and it introduces kids to the game of golf in a fun way. Mom and dad want to do some traditional golf? No problem! Bring the kids along, get them a fling golf club, and let them play right alongside you.
It's affordable. At only $10 a club, you can play and walk the entire course. Spend $16 and you get a cart to use. Enjoy the beautiful grounds of Deer Creek while spending fun, quality time with your family and friends at an affordable price.
I'll admit, it felt completely ridiculous to just fling a golf ball on the golf course after years of learning proper golf etiquette from my dad. But at the same time, it was a more relaxing way to play, especially for me. I never got the hang of swinging the club correctly anyway.
My husband and I discovered that while there isn't a lot of technique to Fling Golf, it does help not to follow through all the way with your club to allow the ball to fly farther. But really, that's about the only tip I can give you.
Try it yourself! I have some good news for you too: kids golf free during the month of August, so what better time to try it out with your family!
Head out to the golf course after school to unwind, or hit the course on a Saturday morning and try something new.