It was my second day at the
Hendricks County 4-H Fairgrounds & Conference Complex
in
Danville, Indiana,
and boy, was it busy. Committing a blogging sin, I arrived to the fair after 1 p.m. and had to pay to park. Although parking was cheap ($5), I should have listened to my own advice in my
Hendricks County 4-H Fair tips post
and arrived earlier to save money. (Learn from my mistakes, people!)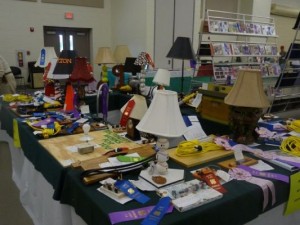 Despite the wacky weather (what else would you expect from an Indiana summer), there was a great turnout at the fair and all the walkways seemed pretty packed.  Because I arrived at the fair alone, I got the chance to visit all of the displays and exhibits at my leisure. One of my favorite parts of the
Hendricks County 4-H Fair
and arguably, one of the most underrated, are all of the 4-H displays.  As a veteran 4-Her from St. Joseph County, I love seeing what other kids are doing. I'm always amazed at the talent these students have. Most of them would blow adults out of the water with their creativity and dedication. Another part of the Hendricks County 4-H Fair that seems pretty unique among county fairs is its educational demonstrations. In addition to the Farm to Table series mentioned in an
earlier post
, the "Just Killed Someone :(" simulator put on by
Purdue's Extension GTG
offers an educational program for both teens and adults. Fair goers can use a driving simulator to see the dangers of texting and driving. The program requires preregistration so I didn't have the chance to try it out, but I would recommend calling (317) 745-9260 to register because space is limited! I also got the chance to see part of the Truck Pull, which was amazing.  I had never seen anything like it. I embraced my inner country and eventually got really into it. Honestly, who could pass up the roaring sounds of engines on a Midwest summer night? With all of the fun I have had at the fair this week, I am sad to see it end this Saturday, July 21.  It's been a hot but great week. If you haven't made it out to the fairgrounds at 1900 E. Main St. in Danville, what are you waiting for? You have just the next few days to stop by and enjoy everything the fair has to offer!
What was your favorite part of the 2012 Hendricks County Fair? Share by posting a comment below!