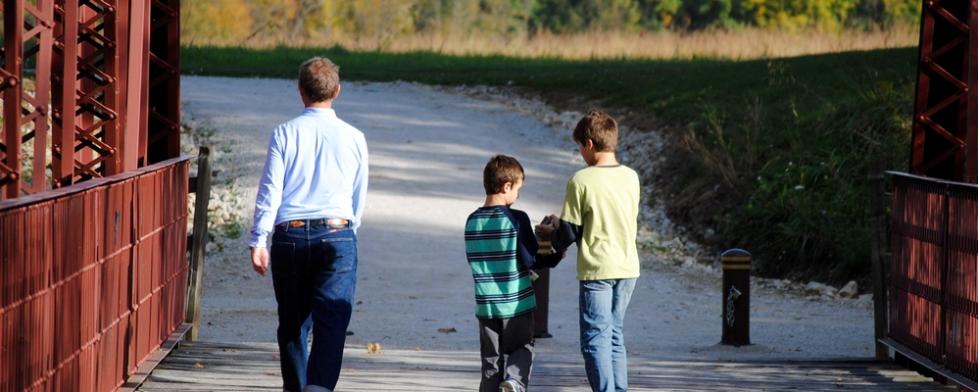 If you're staying close to home over Spring Break or just want a more affordable option than donning mouse ears and heading south, we have some excellent options here in Hendricks County.
Before I go and reinvent the wheel, take a look at Josh Duke's blog post from last year about Spring Break options in Hendricks County. That post is full of wonderful suggestions that remain great options this year, so I'll build on Josh's ideas rather than duplicate them.
Let's begin with some Spring Break events taking place around Hendricks County, and then I'll add a few more options for late March fun.
Avon Kid's Camp
Washington Township Parks & Recreation is offering its Avon Kid's Camp from March 20-24 and March 27-31 at Washington Township Park in Avon. Each day, your 5- to 11-year-olds will enjoy crafts, games, nature education and physical fitness to keep them engaged and active during their stay.
You can sign your kids up for a full day or a half-day by clicking here.
Dad & Me Day at Bisque Barn
A relatively new addition to Hendricks County, Bisque Barn Pottery Paint Studio in Avon offers arts and crafts for people of all ages and skill levels. (To learn more about them, click here.)
In addition to their daily studio hours, Bisque Barn offers Dad & Me Day on March 22, where kids can come in with their dad (or any adult male) and complete a craft for 20 percent off the normal price!
How cool is that?! Fun time with Dad, plus you get a discounted price! Click here to browse Bisque Barn's website, including their store hours and calendar of events.
Wilderness Survival Day Camps
I work for Hendricks County Parks & Recreation, so an idea that immediately jumps to my mind is the Wilderness Survival day camps that we're hosting on March 23 and March 30 at McCloud Nature Park, just outside of North Salem.
These are identical programs on two separate dates for your scheduling convenience. From 10 a.m. to 2 p.m. on each day, we'll take your 8- to 12-year-olds and teach them some of the basics of wilderness survival. This includes how to build a shelter using supplies found in nature, which plants are beneficial and which are harmful, how to purify water for drinking, and other useful skills.
For more information, including how to register for either date, click here.
'Back to the Future' at the Royal Theater
Here's a fun idea for the whole family: see a classic movie at a classic theater! On March 23 at 7 p.m., come to the historic Hendricks County Courthouse Square and experience one of my personal favorite places, the Royal Theater. They'll be showing the 1985 classic "Back to the Future" that evening, and tickets are sold at the door for only $3 per adult and $1 per child age 12 and under! For more information about this event, click here.
The Royal Theater also regularly shows first-run movies at ridiculously low prices several days a week, so make sure to click here to see what will be playing there while you're on Spring Break.
Snapology
When I'm looking for stuff to do in Hendricks County with my kids, my first source of information is Macaroni Kid - Hendricks. Their online calendar of family-friendly events is awesome, and I'm glad I checked it for Spring Break activities because through it I discovered Snapology camps at Trine University in Avon.
Snapology uses LEGO® and other similar bricks to teach kids science, technology, engineering, math and literacy through fun building projects! Over the last two weeks of March, Snapology offers camps called Adventures with Star Wars®, Creature Creator Robotics, Basic Minecraft® and Basic Engineering.
If you step on building bricks in your carpet with your bare feet in the middle of the night because your kids love them so much, you'll want to click here to learn more.
More Ideas for Spring Break Fun
Got all of those events on your calendar and still need things to do with the kids to fill in the rest of Spring Break? No worries.
My kids love to play putt-putt golf in the black light of Monster Mini Golf (they always wear white clothes so that they glow). Battle it out at Xtreme Lazer Tag Two or burn up some energy on the roller rink at Hot Skates (another one of my kids' favorites -- especially the arcade games there). If you've got younger kids, check out JR Funnigan's Jump 'n Play. The whole place is full of bounce houses. All four of these fun spots are in Avon.
How about some bowling? We have Brownsburg Bowl and Sunshine Bowling Center, both located in Brownsburg. Both are clean, smoke-free, family-friendly establishments with modern bowling equipment. (Pssst! Parents! They both have bars attached to them, too!)
Enjoy some fun in the pool, regardless of the weather in late March, at Splash Island Indoor Family Water Park in Plainfield. Sky Zone Indoor Trampoline Park, also in Plainfield, offers a great way for kids to bounce some of that energy out.
A cool place in Danville to check out over Spring Break is the Hendricks County Historical Museum. Now, your kids may roll their eyes at the word "museum," but tell them that it used to serve as the Hendricks County Jail, and the jail cells are still there to be explored.
The building, which also served as the Hendricks County Sheriff's residence, offers several rooms full of fascinating historical items and is an excellent way to show your kids how things used to be done before they were spoiled rotten by modern technology. The museum is only open to the public from 11 a.m. to 3 p.m. on Saturdays unless you make an appointment.
I'm an outdoors person, so if the weather is even halfway conducive to spending a day outside, I'm taking the kids to the park. Which park? Well, we have a bunch of them throughout Hendricks County, and admission to every park in our county is free! At my place of employment, we offer an online interactive map of every single park in Hendricks County, which you can access and explore by clicking here.
So if you're staying close to home over Spring Break, save some travel time and money by visiting Hendricks County!