I am not what you would call an artistic person. I do enjoy crafts, but I don't feel like I am very creative.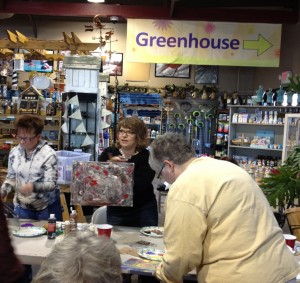 So when I was asked to try Art Journaling on Canvas at
Frazee Gardens
in Brownsburg, Indiana, I wasn't sure how it would turn out, but I was willing to try! We wanted to test it out to see if it might work for the bridal and tour groups that
Visit Hendricks County
works with. Before I went, I did a little research online. What I discovered was that art journaling has endless possibilities. It can be used to document a certain event, like a vacation or a wedding, or it can just be random drawings and ideas. So I decided to take some pictures with me thinking I would use them on my canvas.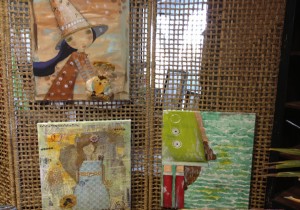 However, when I got to the workshop, Lisa, our instructor, had many examples of the work she had done and I decided to go a more creative route. Lisa had us start out by covering our canvas with paint. She recommended putting a few squirts of paint on the canvas, then using the edge of an old gift card to spread the paint around on the canvas. While the canvas dried, we were free to peruse the tables full of different items to decorate our canvas with.  She had old books and magazines, decorative paper, tissue, stamps, ribbons, buttons, embellishments with words and many more items. I grabbed a few that spoke to me and took them to my spot to get to work. Lisa had recommended layering our items. So I started by using mod podge to put some torn paper on the canvas (she had recommended tearing rather than cutting to add another dimension).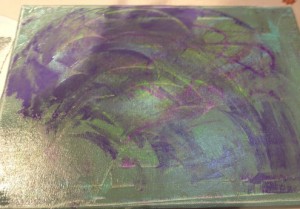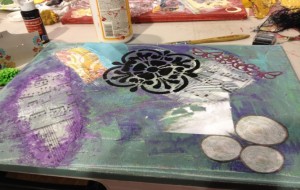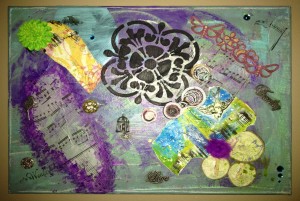 Little by little, I added more items to my canvas. There were people there who helped me find things that might go well with what I had, so that helped a lot. I also got some ideas from other people around me, like the large stamp that I did in black. In the end, everyone ended up with a piece of art that was very unique. No two canvases were alike, or even similar. I must admit I wish I had done a few things differently on my canvas. However, I am pretty happy with how it turned out, and can see how it could become addicting. Frazee Gardens will host more art journaling classes on June 4 and 8; but this time, they will teach how to do art journaling on a box.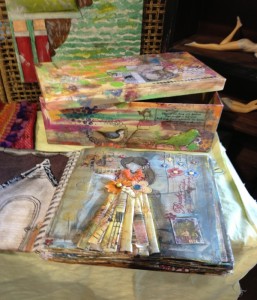 If you are interested in signing up for the workshop, check out
Frazee Gardens' website
or call them at (317) 858-8440. Maybe you can step outside of the box like I did (no pun intended), to create your own art journal project.