Awhile back,
I discovered a new online tool
that revealed 44 parks around
Hendricks County, Indiana
-- some of which I had never heard of. The new interactive tool on the
Hendricks County Parks and Recreation's website
revealed a park in
Clayton
that I wanted to check out with my kids: Lambert Park. So we piled into the minivan and headed out to see what Lambert Park was all about.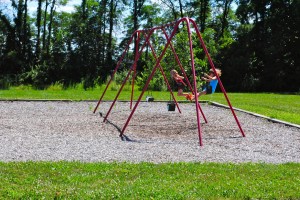 Where It Is
Lambert Park is located on Michigan Street in Clayton, west of Ind. 39, right near the intersection of Michigan and Ruth Elizabeth. Right now, Ind. 39 is torn up and closed to through traffic from County Road 400 South to the Clayton Food Store, so approaching Clayton can be a little tricky. Once Ind. 39 is fixed up and open to through traffic again, Lambert Park will be an easy target:  turn west onto Michigan Street from Ind. 39 and head a few blocks down until you see it on your left.
What It Is
Lambert Park is a 6-acre facility with a nice combination of open grass and plenty of trees. There's a 12-by-24 shelter with picnic tables right next to the playground equipment and a huge 50-by-80 shelter with lots of picnic tables for large gatherings. There are what appear to be modern bathrooms at the large shelter, but the day we were there, the bathrooms were locked. The large shelter offers a modern kitchen, too, and can be reserved by contacting the
Town of Clayton
.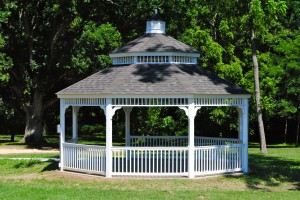 The park boasts a new gazebo, which would make a nice setting for photographs. The shelters and gazebo are all equipped with electricity and lights, too, for those gatherings that go into the dusk hours. I pictured in my mind a great spot for a wedding reception, especially for those on a budget. You can fit lots of people in the shelter, the caterer has access to a modern kitchen, bathrooms are right there, you can take photos in the gazebo, and the kids can play on the playground equipment.
What the Critics Say
Speaking of the playground equipment, my kids -- ages 7 and 6 -- thoroughly enjoyed themselves. There are slides of varying lengths, monkey bars, stuff to climb on, a couple sets of swings. There are also benches for adults to sit on, and you can also sit in the small shelter to escape from the sun. There were a couple of boys there when we visited, and one looked to be about 2 or 3 years old. He made his way around the playground equipment just fine.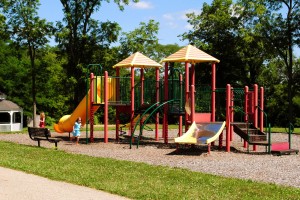 I asked my kids if they had fun at Lambert Park, and both of them gave it a hearty thumbs-up. Having the bathrooms unlocked would have allowed us to stay there longer, but I don't know if that's normal, or if they just didn't get unlocked that day for some reason. Asked if they want to come back to Lambert Park, both enthusiastically said, "YES!" So there you have it. Stay tuned as I discover other hidden parks and recreation treasures in Hendricks County!