I can't think of a better way to get into the holiday spirit then by creating a wreath at
McCloud Nature Park
in North Salem. So, I served as your guiena pig attending the first
wreath workshop
hosted by the Hendricks County Parks Foundation, to report back to you in time to attend their final workshop this weekend.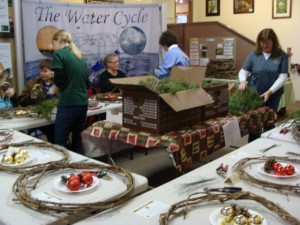 I love decorating for the holidays and a fresh pine wreath is perfect for the front door of my home. The 
wreath workshop
 was held inside the Nature Center at 
McCloud Nature Park
, and it only took an hour to complete my wreath. Each participant was given a wreath base, pine branches donated by Evans Whispering Pines, ornaments and pine cones. Before I began, I was shown how to attach the branches to the base, and then I was allowed to work at my own pace. The naturalists were good about walking around and checking to see if anyone needed help.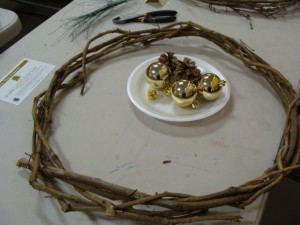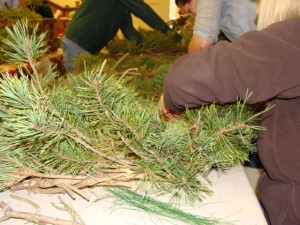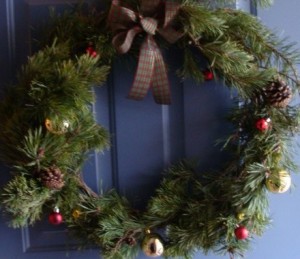 After I finished putting on the branches, I was asked if I would like to choose a bow or make one of my own. I chose a pre-made bow. In addition to the ornaments provided, I took a few of my own to add to the wreath. This workshop is for all ages. There were several kids in the workshop I attended. I could envision a family working on a wreath together or a group of girlfriends all going together and doing one of their own. If you would like to attend, the next
wreath workshop
, there are three sessions at 11 a.m., 12:30 p.m. and 2 p.m. on Saturday, Dec. 15 at
McCloud Nature Park
. You must register for the workshop, and I would suggest you do it soon because it may fill up. Call (317) 718-6188 to register. I had a great time making my wreath and highly recommend this workshop. If you decide to go, you may want to take gardening gloves and feel free to take your own decorations.
Wreath Workshop
McCloud Nature Park Saturday, Dec. 15 11a.m., 12:30 p.m., 2 p.m. (317) 718-6188