Got plans for this Friday, Aug. 31? You do now – in
Hendricks County
!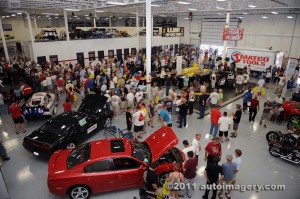 Mix the high-tech world of top NHRA teams at
Don Schumacher Racing
with an art exhibit of a very special kind and a desire to help others and what do you get? The seventh annual Big O Tires and
DSR Open House in Brownsburg, Ind.
! And it's conveniently planned just as drag racing kicks off its signature event, the Mac Tools U.S. Nationals, just down the road. Fans will have the first-ever opportunity to tour the DSR machine shop that includes the machinery used to manufacture more than 200 components used on the winning Top fuel Dragsters and Funny Cars – that will also be on display. They'll even be operating the 8,000-horsepower supercharger dynometer in demos throughout the event! The artwork featured will be created by Thomas Patsis, Bruce Tatman and Todd Myers – and you'll get to see it in process. Thomas Patsis is a full-time metal fabricator at DSR. His work, of course, is metalwork and race-themed. Pretty incredible. But even more incredible, during the 5-hour Open House, he will actually create a piece that will be auctioned later in the afternoon. You can see examples of his work at
ColdHardArt.com
.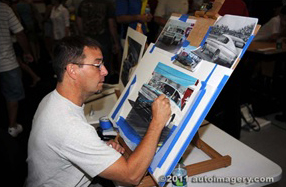 Bruce Tatman is an Indianapolis resident, hailing originally from Dayton, Ohio. He is known for his realistic illustrations of racecars. He also will be creating a piece during the Open House for the auction. Todd Myers is an award-winning multimedia artist originally from Paris, Tenn. His job? He's been the public relations representative and creative director for Kalitta Motorsports for 11 years. His work is greatly influenced by his involvement in drag racing. The auction will include the artwork as well as many other items like a 50-inch and a 36-inch HD, flat panel television provided by Aarons and the actual front end from Matt Hagan's Aaron's Funny Car that exploded earlier this year at Charlotte Motor Speedway's zMAX Dragway. While the event is free to attend, proceeds from the auction and other donations will go to the Riley Children's Foundation that supports Riley Hospital for Children at Indiana University Health and Camp Riley. Of course, the DSR drivers will be there at the Brownsburg event. You'll be able to chat with and get autographs from Tony Schumacher, Antron Brown, Spencer Massey, Matt Hagan (the reigning NHRA Funny Car world champion), Ron Capps, Jack Beckman and Johnny Gray. An autograph session is scheduled to begin at noon. Stop for a taste of Indy food trucks, NY Slice, Nacho Mama's, Circle City Spuds & Grub and West Coast Tacos. Of course, the crowd favorites have emerged over the last six years and will be back for the seventh annual event: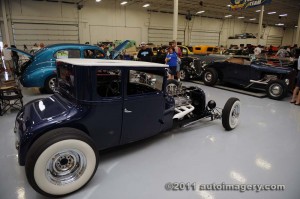 Custom car show featuring the Indianapolis Hi-Winders Car Club.
A "Nitro Cacklefest" will make the earth tremble, including the legendary "Jungle Jim" Funny Car.
Have your picture taken in the FRAM/Prestone Top Fuel Dragster.
Don't miss the opportunity to take in what's behind the roar these cars make on the track. At DSR, they race to win – and on August 31, they're racing to help kids at Riley, too.
Don Schumacher Racing Open House
330-MPH Art & Technology at DSR
10 a.m. – 3 p.m., Aug. 31
1681 E. Northfield Dr., Brownsburg, Indiana
Free.
Park in any lot open on Northfield Drive -– just don't park on the street!