For most of us, maple syrup is a staple in our kitchens, and we don't give it much thought when we grab a bottle from the shelf at the grocery store. However, when I noticed that one of my favorite spots in
Hendricks County
--
McCloud Nature Park
-- is hosting Maple Sirup Days, I thought it would be a great opportunity to show my oldest daughter where her favorite pancake topping actually comes from.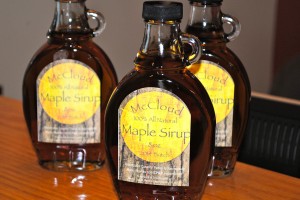 Natalie and I took a drive over the weekend out to McCloud, just outside of
North Salem, Ind.
, to learn everything there is to know about maple syrup. Natalie's first question was regarding the unusual spelling of "sirup," and if there was any difference between "sirup" and "syrup." I didn't know the answer, so we asked a couple of the naturalists there. As it turns out, it's simply a lesser-known variation of the spelling. "Sirup" and "syrup" are one and the same.
(Insider tip:  Begin your tour in the Nature Center. We started at the Sirup Shack, only to learn that it is the fourth step in the four-step tour. It doesn't make that big of a difference, but now you know that the tour is designed to start at the Nature Center.)
Inside the Nature Center, we learned about how sap is extracted from maple trees, along with what weather conditions are ideal for sap extraction, how much water is in maple sap, and a few fun facts about maple trees. Next, we headed outside for some hands-on experience.
(Insider tip:  Wear clothes and shoes/boots that you don't mind getting muddy. The park put down some hay to help with the foot traffic, but with all of the snow melting, it's not difficult to find yourself in mud.)
The second station was Natalie's favorite. We learned from park naturalist Lucas McNabb how to tap a maple tree, the various parts of a tree, and how to identify a maple tree during winter months when they have no leaves. Then, Natalie got to tap a tree herself! Check it out: [youtube]http://youtu.be/BTlb6lOGTSY[/youtube] Natalie is 7 years old, and as you can see, she had no problem whatsoever tapping a tree. Right before her, a little boy who was probably 4 or 5 years old had just as much success. So this is an experience that is perfect for kids of all ages.
(Insider tip:  Bundle up. At two of the outdoor stations in particular, the winter wind was more than I was ready for. Natalie was bundled up with a hood, a scarf and gloves. Dumb ol' dad left his hat and gloves at home and got cold!)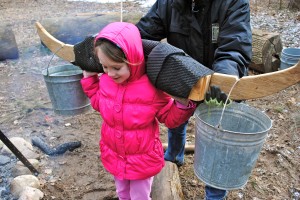 Then we walked to another station where we learned some history behind maple sap and syrup, which included a demonstration about how Native American and colonial settlers' children would carry buckets of maple sap to be boiled down into syrup. Natalie tried out the device and came to the conclusion that she's glad that she wasn't around during that period in history! Finally, we ended up at the Sirup Shack, right in front of the Nature Center, where we saw a great big evaporator that was built by Amish in the community of Topeka, Ind., and that is used to turn sap into syrup or candy. We learned all about the process, and we sampled some of the maple candy (DELICIOUS!).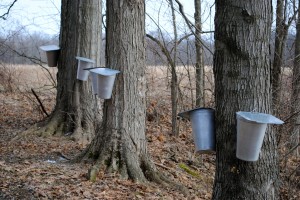 It was a fun afternoon at Maple Sirup Days! If you didn't make it out there this past weekend, have no fear. Maple Sirup Days continue this weekend, on
March 1 and 2
, out at McCloud Nature Park. On Saturday, March 1, the fun begins at
9 a.m.
with a pancake breakfast fundraiser that lasts until
3 p.m.
(Insider tip:  Make reservations by calling (317) 718-6188. The Nature Center fills up quickly for this popular event!)
On Sunday, March 2, the pancake breakfast fundraiser runs from
10 a.m. to 3 p.m. 
The Maple Sirup Days tours run from 11 a.m. to 4 p.m. each day. The tours are absolutely
free
! Natalie loved Maple Sirup Days. Take your kids out to McCloud Nature Park this weekend and see how much fun they have!