I want a good meal wherever I visit, and it helps my travel budget to know where to find cheap eats. What's a cheap eat? It could be breakfast, like a doughnut, or a sweet treat, like an ice cream cone. Cheap eats also can be pizzas and sandwiches. We asked 
Visit Hendricks County's Facebook fans
for help on the county's best cheap eats, and you guys came through with a lot of great recommendations. Thank you! There are so many wonderful
dining options in Hendricks County
, and I couldn't include details on them all (next time!). But here are 5 places for cheap eats in Hendricks County with some honorable mentions thrown in for good measure. 1.
Bread Basket Cafe & Bakery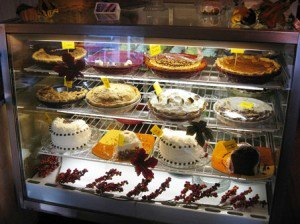 Where is it?
46 S. Tennessee St., Danville, IN, 317-718-4800. Though it wasn't mentioned by any of the Visit Hendricks County Facebook fans, this is one of my personal favorites. At this charming restaurant, you'll smell freshly baked breads, cookies and pies. Order one of these baked delights -- but don't forget why you're there. It's to have the breakfast star: biscuits and sausage gravy. This is some of the best biscuits and sausage gravy I've had anywhere (sorry, Grandma).
Tip:
After your meal, drive a few minutes to
downtown Danville
, park and spend time walking around the square and visiting some of the fun shops. 2.
Hilligoss Bakery
Where is it?
804 E. Main St., Brownsburg, IN, 317-852-7451 I'm a fan of doughnut shops like the ones my grandparents used to take me to on Sundays after church. Don't miss the cake doughnuts with chocolate frosting. They're a true cheap eat at around 80 cents a piece.
Tip:
Get your doughnuts and milk to go and enjoy them at nearby scenic
Arbuckle Acres park
. (You'll find walking trails and basketball courts here.) 3. Lizton Dairy Bar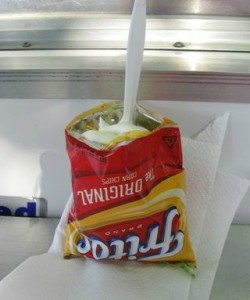 Where is it?
102 W. Main St., Lizton, IN, 317-994-5399 Warm weather outside means it's time for ice cream treats, like cones, flurries and sundaes. Lizton locals and a few of you on Facebook rave about the Dairy Bar's sweet treats, but don't forget one of their savory cheap eats, the walking taco. I always get a walking taco at the State Fair, and I love that you can get them all the time at the Dairy Bar. A walking taco and an ice cream cone...Sounds like a great meal to me!
Tip:
After a visit to the Dairy Bar, drive through nearby
Pittsboro
 to see one of Hendricks County's
5 Off-the-Beaten-Path places in Hendricks County
, the 
Pittsboro One-Room School
. 4. Pho 36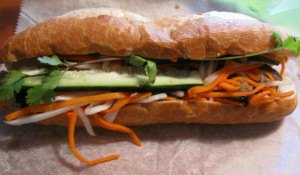 Where is it?
9655 E. U.S. 36, Suite C., Avon, IN, 317-273-1830 This Vietnamese restaurant offers light and healthy entrees like lemongrass chicken. Don't miss out on their bahn-mi, a Vietnamese sub-style sandwich that is always a good grab-and-go option.
Tip:
After Pho 36, take a short drive to
Burnett Woods Nature Preserve
, one of the
5 Off-the-Beaten-Path places in Hendricks County
, with hiking trails. 5.
So Italian
Where is it?
515 E. Main St., Brownsburg, 317-858-4777 This popular, family-friendly Italian eatery serves up pastas, pizza and sandwiches. I also noticed that they just started serving breakfast, which I may have to try soon. My family likes the pepperoni pizza with just the right amount of sauce, cheese and pepperoni. It's a winner. Tip: Work off that Italian feast and take the kids to visit
Williams Park
, with its basketball courts, trail and Blast-Off playground. Honorable mentions
Flap-Jacks - This was a real favorite on Facebook and includes locations in Brownsburg and Plainfield.
The Porch - A classic cafe with a friendly, tea-room atmosphere in a former schoolhouse across from Beasley's Orchard in Danville.
Perillo's Pizzeria - Another fan favorite that has grown a real following despite its location in the far northwest corner of the county in North Salem.
These are just a handful of great cheap eats in Hendricks County. Have any more suggestions? We'd love to hear. Leave us a note in the comments section below.