For Heidi and Russ Greene, gourmet popcorn is the stuff that dreams are made of.
And, the couple's dreams -- Heidi's to create her own brand of gourmet popcorn and Russ to own and operate a small business -- were fulfilled in late September when they opened the doors to Heidi Pops Gourmet Popcorn, located in the Metropolis Lifestyle Center in Plainfield.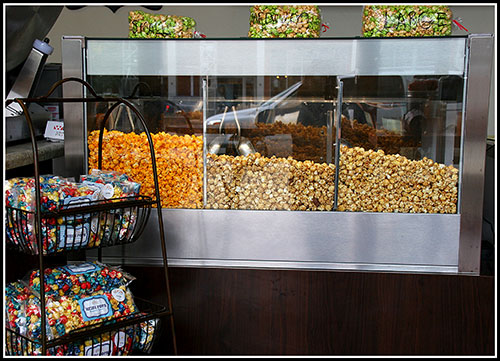 In our family, we've spent many nights enjoying some popcorn while watching TV (mostly sports...), but I have to tell you that after visiting their shop, I'll probably never go back to the store-bought variety again.
Walk into the brightly lit store, and almost immediately the aroma of freshly-made popcorn takes control of your senses, and soon you're like a kid, well, in a popcorn store. All of the popcorn is neatly wrapped and nicely displayed, and tins of all kinds are lined up, just waiting to be filled.
This is certainly a destination if you're looking for holiday gifts. 
Heidi Pops features more than 20 flavors, everything from Salt and Vinegar to Sour Apple and a tasty selection known as Confetti - combining cherry, blueberry, blue raspberry and pina colada. If you like popcorn with some extra kick, try their Buffalo Wing and Ranch or their Jalapeno Cheddar.
Of course, they also offer some tried-and-true favorites such as Caramel (including pecans or almonds), Sharp Cheddar, Chicago Mix and Plain. I'm told they even take suggestions from customers on the flavors they offer. 
We went home with three medium-sized bags of the Confetti, Bacon Cheddar and Sour Apple. Talk about incredibly delicious!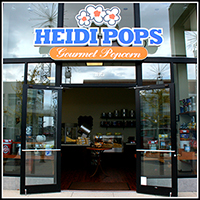 Perhaps best of all, the popcorn is reasonably priced. Bags of popcorn cost $4/small, $7/medium or $9/large, and the tins range from $20 to $60 for sizes including one, two, three-and-a-half or six-and-a-half gallons. They offer tins for a variety of occasions and sports teams.
Heidi Pops also makes it easy when it comes to taking orders. Orders received by noon EST are shipped the same day while any orders placed after noon or over the weekend will be shipped the next business day. 
Definitely can't wait to get back to Heidi Pops to see what other creations I'll want to try the next time I sit down to watch a movie or catch a game. 
Heidi Pops Gourmet Popcorn
Metropolis Lifestyle Center2498 Futura Parkway, Suite 165
Plainfield, IN 46168
Phone: (317) 863-0844
Hours: Mon.-Sat. 10 a.m.- 9 p.m.; Sun. Noon-6 p.m.
Website