January is the time when we all make resolutions to eat healthier, exercise more and weigh less. One of the diets physicians and health experts suggest is the Mediterranean Diet.  An
article from the Mayo Clinic
says that a "Mediterranean Diet incorporates the basics of healthy eating with perhaps a splash of olive oil and a glass of red wine." So that makes now the perfect time for every person resolving to improve their diet and health in the New Year to travel down U.S. 36 in Avon, Indiana, to the
Mediterranean Grill
.
That's exactly what my husband and I did on a cold January day. We hadn't been to the restaurant before and now that we have, we will be back – probably over and again, bringing other friends and family with us. We believe in sharing all the good things we find. The menu said, "Savor the Flavors of the Mediterranean," and we did. For an appetizer, we tried the Triopita – oooh, a blend of creamy, mild cheeses baked in filo (or phyllo) pastry wrappers. It was warm inside and and flaky on the outside. Then, my husband, a real fan of Greek Salad ordered it while I ordered the Avgolemono Soup. A basket of warm pita bread arrived with our starters and he tried to convince me that the salad with its homemade Greek dressing and fresh lemon squeezed (you could taste it!) over top covered by kalamata olives and fresh feta was better than my soup. But the orzo pasta and chicken in a creamy egg and lemon soup was outstanding. I didn't share one little spoonful.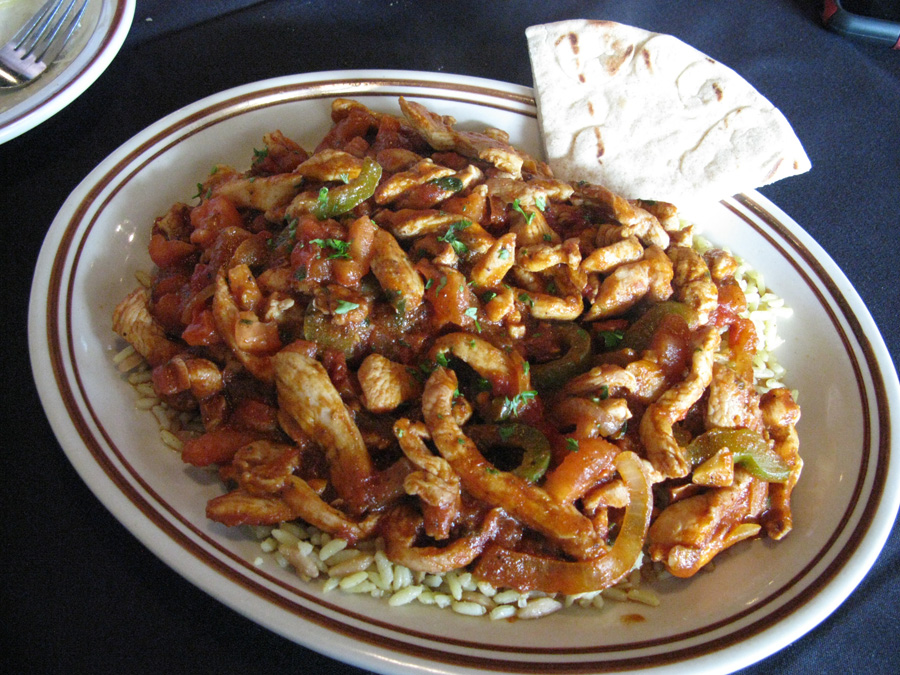 That was just the beginning because our entrees arrived steaming just as we finished the soup and salad. We ordered the Hoosa and the Pasticcio. It really didn't matter who ordered what, because we always share – I make him (except for the Avgolemono Soup – that was mine, all mine.)
 Hoosa is chicken sautéed with garlic, tomatoes, onions and green peppers and spices served over a bed of seasoned rice. It smelled divine – and tasted equally as good.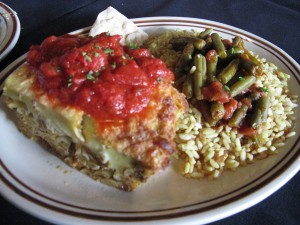 The Pasticcio was my favorite of the two – the baked layers of ground beef and macaroni covered with cheese sauce and topped with tomato sauce was just so good. It came with a serving of the rice and deliciously seasoned green beans. What I learned is that Mediterranean food does not mean only Greek food. The influences of all the ethnic groups and their foods surrounding the Mediterranean Sea come into play. And to that, I say, "Bravo!" because the food was delicious and even though the portions were generous and we ate a lot, neither of us felt weighed down. At the end of the meal, we shared a single Baklava. Sheets of filo pastry above and below the cinnamon and nutty filling covered with a sweet icing hit the spot. Yum. Just yum. The service was spot on from the moment we entered the restaurant. The food came to the table piping hot and in a steady rotation – which I always find amazing when it happens. My iced tea glass was never more than half empty and even the take-home containers were brought promptly when it was evident we weren't going to finish all the food presented to us. The restaurant also offers several international wines, and I can see how diners could enjoy a relaxing meal buoyed by the sounds of the Mediterranean region, a nice wine and flavorful food. You don't have to be ready for a big meal or want ethnic Mediterranean food to dine there. They offer several different sandwiches including chicken and burgers as well as French fries. There is also a children's menu. One thing I will definitely remember is that I can "Savor the Flavors of the Mediterranean" with carry out! A quick call, a buzz by and we are on our way to healthier eating this year with flavorful meals I know we'll enjoy! The Mediterranean Grill10230 E. U.S. Hwy. 36Avon, IN 46123317-273-8570 – Don't forget! They have carry out!www.the medgrillavon.com Hours:Monday – Thursday  11 a.m. – 9 p.m.Friday and Saturday  11 a.m. – 10 p.m.Sunday  11 a.m. – 3 p.m.