I was fortunate to be brought up in a family that traveled, and one of my best memories included a trip to England when I was 15. On that trip, I will never forget enjoying the traditional English afternoon tea, especially the scones and clotted cream.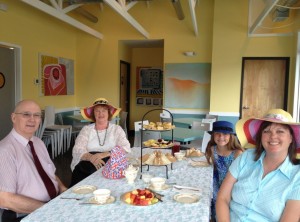 Since my mom is hard to buy for, on Mother's Day, I promised her that I would take her for tea the next time she visited from New York City. I recently had the opportunity to fulfill that promise, and the person who helped me do it was Tina from
Tina's Traditional Old English Kitchen
. Tina is from England.  She moved here from England about five years ago and started a tea catering  business about two years ago. She had always dreamed of owning a business such as this, but never imagined it would be in the United States. Tina will cater tea to any location, but she also offers what she calls "pop-up teas." These are teas where she rents a space and holds tea for people who let her know they would like to come. The day my parents were here, the tea was in Indianapolis, but she often hosts events in Hendricks County including one that is coming up next weekend on Sept. 29 at
Dawson's Too
in Brownsburg. When we arrived, Tina greeted us with her wonderful English accent wearing her British flag apron. She had set the table beautifully -- there was a three-tier tray full of goodies, plus a plate of fresh fruit.  In addition to that, she had a separate plate with goodies just for my daughter who is 10.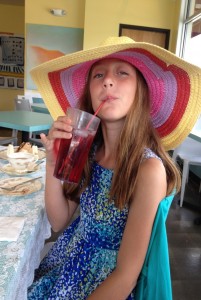 After we were seated, Tina showed us a hat collection we could choose from if we so desired. My dad did not, but the ladies all put one on. Mine only stayed on for the picture, but my daughter loves hats, so she wore several throughout the experience. After we were properly attired, Tina explained what she had prepared for us to eat. The bottom tier was full of cucumber/cream cheese sandwiches and chicken salad with craisins. The middle tier had scones with lemon curd and raspberry jam (both with the required clotted cream, of course).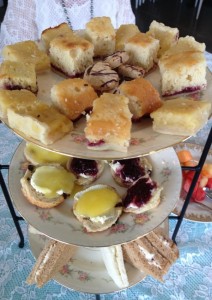 The top tier had shortbread, heart-shaped cookies, lemon bars and Bakewell tart, a special family recipe. For my daughter, she had prepared Nutella with banana sandwiches and lemon curd sandwiches (but she also enjoyed food from our selection). Tina had prepared a special drink for my daughter called Ribena, a black currant cordial drink, and also poured tea for all of us. After learning about the food, we were able to enjoy it. Everything was tasty. I was a little worried that my picky daughter wouldn't enjoy the food, but she did. She also had a great time lifting up her pinky finger when she drank (even though if you read Tina's Tea Party Etiquette she says you don't have to). Throughout the event, we spoke with Tina and learned about England, tea customs and insider tips on how to have a proper tea. She also had many of her items, such as tea and jams, for sale. She sells her items at Dawson's Too, and at the Plainfield Farmers Market from 4-7 p.m on Wednesdays on the lawn of the Plainfield Friends Meeting. Tina also will do bridal showers, deliver a special treat to a hotel for weddings and make wedding favors. To see more about everything she has going on (including a tour of England), visit her
website
. I highly recommend trying Tea with Tina for a different and tasty experience! Don't forget to call her now at (317) 858-4345 to book your Tea at Dawson's Too on Sept. 29.