If you like classic cars and music, are looking for something different to do with the family after a long week at work, or want to step back in time to the "good ol' days" for awhile,
Downtown Danville
 in
Hendricks County, Indiana
, has a free event for you each month all summer:  
First Friday Cruise-Ins
.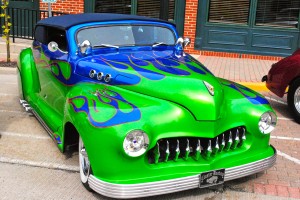 At the risk of sounding like
John Mellencamp
, I grew up in a small town, and I can breathe in a small town. There's just something about small town America -- that relaxed sense of community that slows down the chaos of everyday life, the nostalgia of stepping back in time, the charm and hospitality that comes from one-on-one interactions with down-to-earth people. That's the feeling that you get when you stroll around the Historic Hendricks County Courthouse Square in Danville on the first Friday of each month from May through October. From 5 to 9 p.m., all sorts of classic cars, muscle cars, hot rods, antique tractors and more line the Square. People casually mill around, examining these masterpieces that represent countless hours of blood, sweat and tears to restore.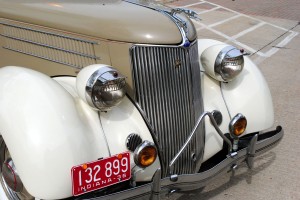 Music fills the air, cameras are out in full force, kids run and laugh and play on the grass outside of the Hendricks County Courthouse, and the owners of these outstanding pieces of machinery sit in lawn chairs and will gladly chat up anyone who is curious about their car. Learn the history of the vehicle, the history of the times in which it was originally on the road, and an endless number of stories involving its discovery and refurbishment. All you have to do is ask.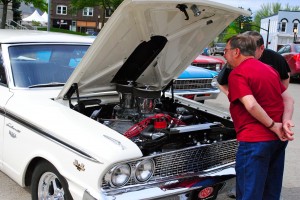 Adding to that small town, good-old-days feel of First Friday Cruise-Ins are the local businesses that are open for the event. Getting hungry while you enjoy the classic cars? You'll find the iconic
Mayberry Cafe
on the north side of the Courthouse Square, or a few doors down, you can try the new
Diesel's Sports Grille
, where the front of a Freightliner crashes through the wall and a diamond-plate chair rail lines the walls.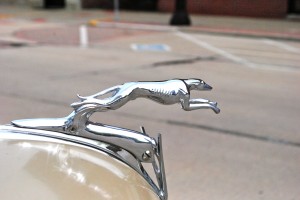 Wander over to the west side of the Square and pop into
Diggity's Gourmet Dawgs
, where the historic ambiance won't skip a beat. The super-friendly ladies there carefully hand-craft a hot dog of your choice while you're surrounded by 1950s decor. I have a sweet tooth something fierce, so I can't stay away from
Carla's Creations
on the south side of the Square. I feel like a kid in a candy store when I'm in Carla's because ... well ... I'm a big kid, and Carla sells a huge variety of candy.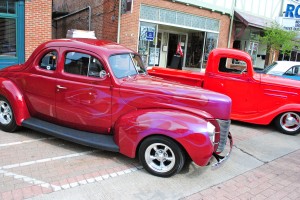 Frank's Place
is on the east side of the Square if you feel like Italian food, and next to Frank's is the historic
Royal Theater
. After you've checked out the cars and grabbed a bite to eat, get to the Royal by 7 p.m. for a first-run movie. Your jaw will drop when you discover how inexpensive tickets are as the smell of fresh popcorn lures you to the concessions counter. There are so many classic cars to explore and so many great things to do in Downtown Danville that four hours isn't nearly enough time to take it all in. I recommend multiple trips to First Friday Cruise-Ins. Visit Hendricks County and step back in time every first Friday of the month through October. The next one is June 7!