Stepping into Papa Joe's Jr. Italian Restaurant in
Avon
, Ind., I felt as if I was transported into old-school Italy. Ornate, golden picture frames bordered the burgundy walls, and the dim lighting created a traditional European atmosphere.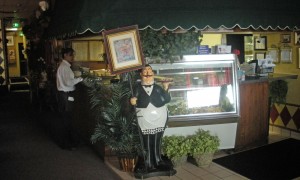 This exquisite, family-owned restaurant is a rarity in Avon – a town stuffed with commercialized food chains. While these restaurants are delicious in their own right, a mom-and-pop eatery is a good way to break the monotony. Located off U.S. 36, Papa Joe's Jr. is nestled in the thick of
Hendricks County
and offers something unique: a true "family" feel! It was clear from the moment I walked in, that Papa Joe's was a family restaurant. Its mantra, "Let our family, treat your family, like family" speaks for itself. Papa Joe's is one of two stores owned by the family and was operated by "Joe's" son, George, until his passing from cancer in January.  Despite the tragedy, Papa Joe's has charged through and continues to offer both a warm welcome and a warm plate of food.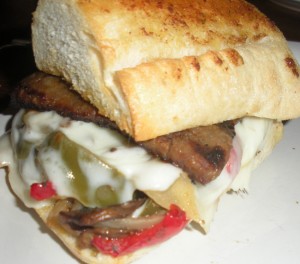 One thing I really liked about Papa Joe's was their lunch menu. It gave me a chance to try high-quality food for a low price.  I chose the Italian Sausage Sub (half size) and soup option – a steal for $5.95. The sub was an Italian sausage patty, smothered in sautéed onions, mushrooms, green peppers, red sauce and cheese – Delizioso! The lunch menu featured other great deals –such as baked spaghetti and a buffalo dip.
Recommendation
: Although I didn't try it, Papa Joe's is known for one particular food item – its "Works Salad." The works salad contains crisp iceberg lettuce, small cubes of cheese, ham and Italian sausage and is topped with tomatoes and onion. Salad gurus – this one's for you.
You can get your own fill of Italian at the family-owned restaurant anytime between 11.a.m. to 11 p.m. Monday-Saturday. Full menu and prices can be found on the Papa Joe's Jr.
Facebook page
.
Love the Works Salad or another dish? Share by leaving a comment below!