YUM…that's the word my toddler would use to describe today's featured
Hendricks County
 cupcake shop
Sweetheart Cupcakes
. Me and the little one took a visit there recently, and we both found it to be...well...sweet!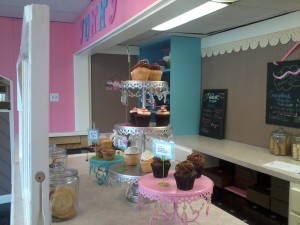 I had heard a lot about this gourmet shop and wanted to try it for myself. Sweetheart Cupcakes is located just off U.S. 40 at 111 S. Vine St., Plainfield, Ind. There is street parking conveniently located outside of their shop. The shop is adorable. Even from the street, you can tell it is fun. Sweetheart Cupcakes is neatly decorated with bright pinks, blues and greens. The large display of cupcakes and cookies is enough to make anyone hungry. The shop has a wide selection of everything from pumpkin cheesecake cupcakes to red velvet cupcakes. The options change daily and can be viewed on their
Facebook page
. Of course a customer can always place an order for whatever kind they would like for their special event. After pointing at every cupcake, I finally made the decision for my little one, going with the apple streusel cupcake. Motivation…my love of apples and the fact that this cupcake had about half the frosting of the others. Yes, a girl loves her frosting but frosting and a toddler can be dangerous so we went with less frosting.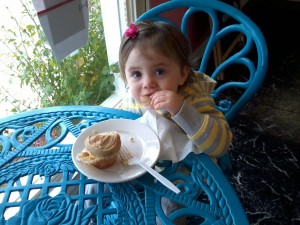 We both loved our cupcake, it was perfectly sweet and moist. The flavors were rich and you could tell the ingredients and the cupcake itself were rich. Owner Nancy Murrell was working the front counter the day we went in, and she was a true delight. Talking with Nancy it is clear that she has a true passion for her business and her customers. Sweetheart Cupcakes opened last year after prompting from Nancy's friends and families. Prior to owning the business, Nancy made cupcakes out of her home. The business really just outgrew that, and she decided it was time for a store front. Nancy noted that baking, and cupcakes in particular, have been a 20-year passion. "I realized that baking was a way to make people happy, and I went from there," she told me.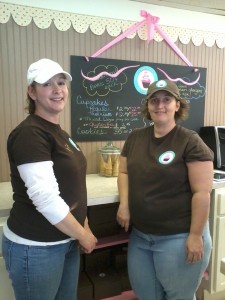 Nancy mentioned that all the recipes are her own. Even if she finds a recipe she wants to try online she is always sure to tweak it to make it her own. So, these cupcakes are truly one of a kind folks! Nancy didn't hesitate when I asked what have been her most popular cupcakes, "Snicker doodle and lemon burst!" Sweetheart Cupcakes is a Hendricks County must visit. It is delicious; it is fun; it is local; and most of all, it is sweet!Go give it a try and let me know what your favorite cupcake is…that way I know what to order next time.