If you think the winter boxes you in and relegates activities to only those you can enjoy hearthside, I have news for you.
Grab those warm winter wraps and picture yourself atop a fine steed enjoying the brisk air and snow-laden forest – seeking a glimpse of Bambi skittering through the woods at
Natural Valley Ranch
in Brownsburg, Indiana. Here in
Hendricks County
, every person older than 3 can have such an experience at Natural Valley Ranch. The weather is always tricky, so that's why ranch owner Marie Damler makes 30- and 60-minute guided trails rides available on a same-day basis. If you call, text or e-mail her in the morning, you can arrange a time to be riding that very day, or the next if you prefer. Winter trail rides provide a completely different experience than any other time during the year. Many riders even prefer it. The scenery is different and catching sight of wildlife is easier with the absence of foliage and the white of snow. The Natural Valley Ranch guides follow trails through the woods and along White Lick Creek. In the winter, riders won't cross the river bed, however.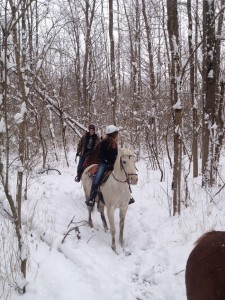 You never know in Indiana if it's going to be a sunny warm winter day or breezy brisk day so Hoosiers know to dress in layers and wear a hat and scarf. I wanted to smack my forehead when Marie suggested those chemical pack toe warmers and hand warmers for winter rides. They are available all over the place from gas stations to the big-box discount stores. What's great is that riders of all levels can come out to enjoy the winter scenery from a unique (and higher) perspective. Plus, you can see the horses' snorts in the cold air, which always fascinates me for some reason. Not only can any level of rider join in, but anyone can ride who is 3 years old or older. Smaller people build confidence and get more comfortable on their own horse because they ride attached to the guide with a lead line. Children ages 3-5 ride with a parent. All riders younger than 18 are required to wear a helmet, which the ranch provides at no additional cost - or you can bring your own. The cost is $15 per person for a 30-minute ride or $30 for an hour rider per person. The cost for children ages 3-5 is $5.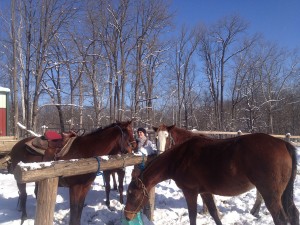 For those who aren't sure a trail ride is their cup of tea or have a youngster who isn't quite sure, families can come out to the ranch during daylight hours to see the horses, miniature horses and goats at no cost. Pony rides are also offered free in the arena (just be sure to tip the handler). Marie asked me to mention that it's okay to bring treats (carrots, apples, etc.) for the goats, but to not feed the horses. So don't spend one more winter day cooped up wishing you could go somewhere outside and do something fun – because you can get out and create some winter memories at Natural Valley Ranch!  Natural Valley Ranch6310 E. County Road 350 NorthBrownsburg, INPhone: (317) 509-3577Email: marie@naturralvalleyranch.com
www.naturalvalleyranch.com